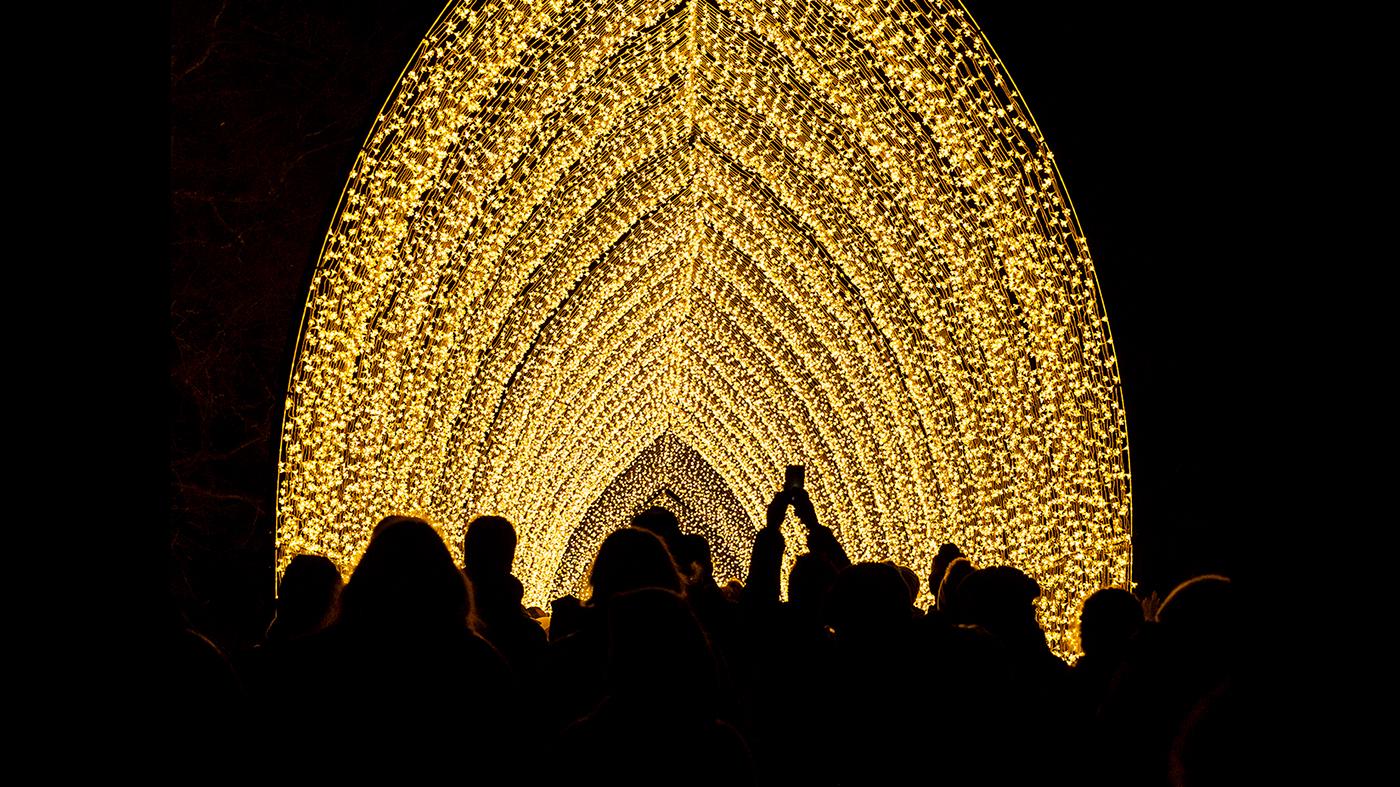 The popular event that sells out each year returns for its fourth year
Release Date: Wednesday, September 28, 2022
Explore the whimsy of nature in winter through music, light, fire, and color during Lightscape at the Chicago Botanic Garden. Starting November 11 and running on select dates until January 8, 2023, the outdoor illuminated trail will make spirits bright with new light-filled installations along with favorite and reimagined pieces.
"Lightscape is an engaging way to experience nature from a 360-degree perspective—the captivating installations along the trail draw the visitor's attention to look up and around," said Jodi Zombolo, associate vice president, Visitor Events & Programs at the Garden. "It provides a festive setting to see the natural world sparkle while creating memories with friends and family."
This year's all-new path features vibrant, inventive new works created just for the Garden from international artists, including:
World premiere of Spark Ballet, from French artist Pitaya: Lights flicker gracefully inside lanterns hanging on trees and placed on the ground, creating an effect as if the lights inside are dancing.
Flynn, from French artist Pitaya: Luminous objects with ever-changing colors seem to float above the ground in a gentle, almost hypnotic rhythm.
Starscape, from Australian artist Mandylights: More than 700 handmade acrylic stars create a stunning immersive experience, where brilliant flashes of saturated color animate up and down the length of a 130-foot-long tunnel.
Additionally, favorite installations like the Winter Cathedral will return to the trail along with reimagined versions of the Fire Garden and illumination of the Garden's popular Elizabeth Hubert Malott Japanese Garden.
Lightscape is produced in partnership with Sony Music and creatively produced by Culture Creative. Visit chicagobotanic.org/lightscape for more information and to purchase tickets.
An image gallery is available for media download here.
 
About Chicago Botanic Garden
The Chicago Botanic Garden, one of the treasures of the Forest Preserves of Cook County, is a 385-acre living plant museum featuring 28 distinct gardens and four natural areas. With events, programs and activities for all ages, the Garden is open every day of the year. Located at 1000 Lake Cook Road in Glencoe, IL, the Garden is smoke free. Opened to the public in 1972, the Garden is managed by the Chicago Horticultural Society, accredited by the American Association of Museums and a member of the American Public Gardens Association (APGA)
 
About Sony Music
Sony Music has been delivering illuminated Christmas trails for over eight years. Each trail is carefully designed to showcase the natural and unique environment of the individual location. There are currently 22 trails across the U.K., Europe, U.S., and Australia within the My Christmas Trails and Lightscape portfolios. The chosen partners for national and international heritage and prestigious venues include: Blenheim Palace; The National Trust; Forestry England; The Royal Botanic Gardens, Kew; Royal Botanic Garden, Edinburgh; Chicago Botanic Garden, Chicago, U.S. and Royal Botanic Gardens Victoria, Melbourne, Australia. For more information, visit mychristmastrails.co.uk and follow on Facebook (@mychristmastrails) and Instagram (@mychristmastrails).
 
About Culture Creative
Culture Creative is a creative project and production management company based in the U.K. The Company works across a wide range of cultural fields including art, sport, heritage, tourism, festivals and events, developing projects from concept to delivery. Since 2013, Culture Creative has worked closely with leading entertainment promoter Raymond Gubbay Ltd., a division of Sony Music, to create Lightscape and Christmas-themed trails in various venues worldwide. For more information, visit culturecreative.co.uk and follow on Facebook (@culturecreativeltd), Twitter (@CCLCreative), and Instagram (@culturecreativeltd).