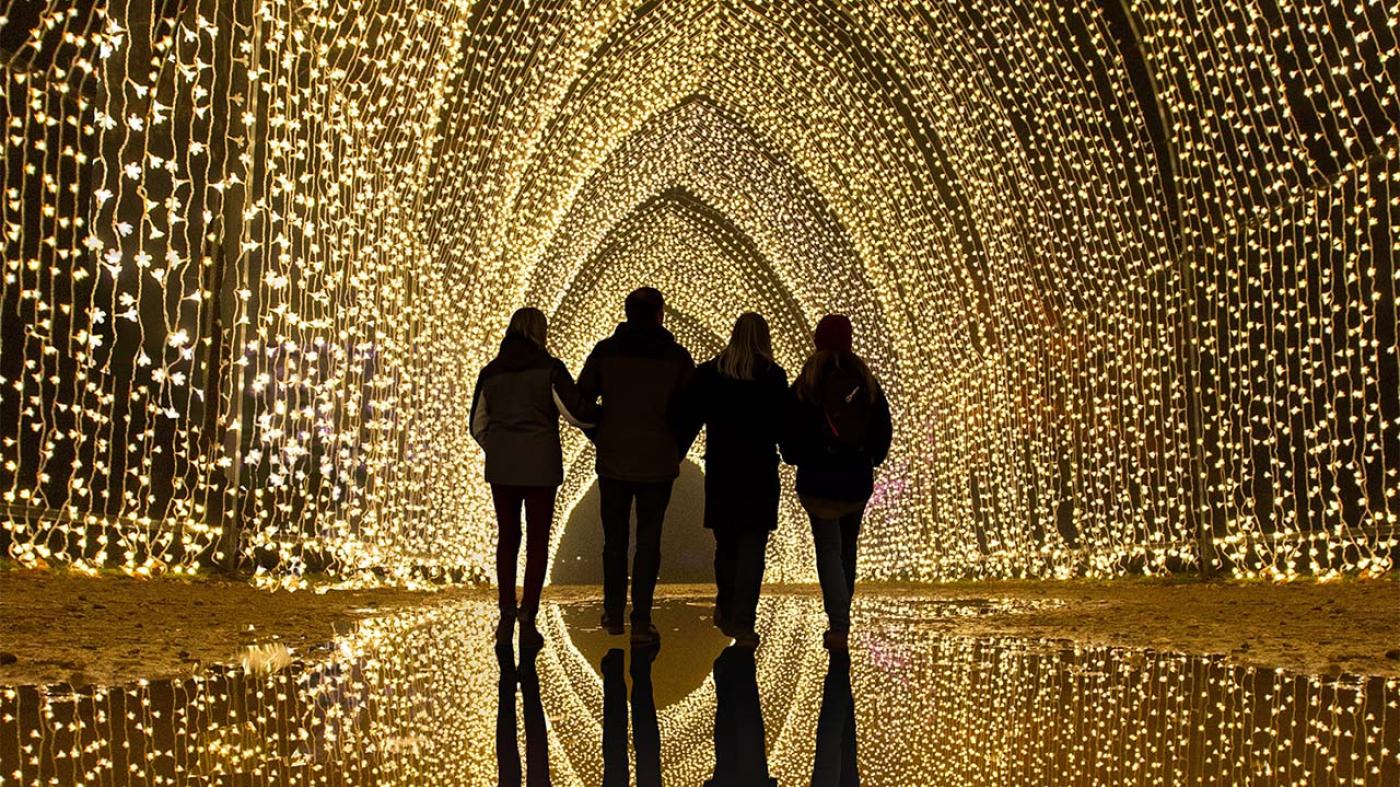 The popular event that sells out each year returns for its third year
Release Date: Wednesday, October 27, 2021
Thousands of twinkling lights and new features that shine with all the colors imaginable will be on display during Lightscape at the Chicago Botanic Garden this holiday season. Starting November 12 and running on select dates until January 2, 2022, the outdoor illuminated trail includes an all-new, one-way, 1.25-mile path filled with favorite artistic installations set to seasonal music along with new and reimagined pieces.
"Lightscape has been so popular because it's a festive opportunity to celebrate the season with friends and family while being amazed by exciting new installations that have never been seen before," said Harriet Resnick, the Garden's vice president of visitor experience and business development.
More than 80 percent of this year's trail will feature new installations from Chicago-based and international artists, including:
Floraison (flowering): A mass of red poppies that appear to have flown up and cling to tree branches where they gracefully dangle to create a canopy above a path or among the trees—from French artist Pitaya.
Kinetic Hues: An immersive installation made from 12 dazzling saturated pillars of light whose up-and-down movements create a stunning series of shadows that move, morph and are constantly changing—from Australian artist Mandylights.
McGinley Laser Show: Laser beams dance across the water in time to music, taking the surface reflections with them and creating shapes that rise up into the sky—from Chicago artists Christopher Wren and Fog-Man Enterprises.
Additionally, favorite installations like the Winter Cathedral and Singing Trees will return to the trail along with reimagined versions of the Fire Garden and Heritage Tree.
Lightscape is produced in partnership with Sony Music, creatively produced by Culture Creative, and promoted in partnership with Arny Granat of WAD Entertainment. Visit chicagobotanic.org/lightscape for more information and to purchase tickets. 
An image gallery is available for media download here.
About Chicago Botanic Garden
The Chicago Botanic Garden, one of the treasures of the Forest Preserves of Cook County, is a 385-acre living plant museum featuring 27 distinct gardens and four natural areas. With events, programs and activities for all ages, the Garden is open every day of the year. Located at 1000 Lake Cook Road in Glencoe, IL, the Garden is smoke free. Opened to the public in 1972, the Garden is managed by the Chicago Horticultural Society, accredited by the American Association of Museums and a member of the American Public Gardens Association (APGA).
About Sony Music
Sony Music has been delivering illuminated Christmas trails for over eight years. Each trail is carefully designed to showcase the natural and unique environment of the individual location. There are currently 22 trails across the U.K., Europe, U.S., and Australia within the My Christmas Trails and Lightscape portfolios. The chosen partners for national and international heritage and prestigious venues include: Blenheim Palace; The National Trust; Forestry England; The Royal Botanic Gardens, Kew; Royal Botanic Garden, Edinburgh; Chicago Botanic Garden, Chicago, U.S. and Royal Botanic Gardens Victoria, Melbourne, Australia. For more information, visit mychristmastrails.co.uk and follow on Facebook (@mychristmastrails) and Twitter (@mychristmastrails).
About Culture Creative
Culture Creative is a creative project and production management company based in the U.K. The Company works across a wide range of cultural fields including art, sport, heritage, tourism, festivals and events, developing projects from concept to delivery. Since 2013, Culture Creative has worked closely with leading entertainment promoter Raymond Gubbay Ltd. a division of Sony Music, to create Lightscape and Christmas themed trails in various venues worldwide. For more information, visit culturecreative.co.uk and follow on Facebook (@culturecreativeltd), Twitter (@CCLCreative), and Instagram (@culturecreativeltd).