Green roofs. In plant science (and gardening), the new frontier is overhead rather than underfoot. On the 16,000-square-foot Green Roof Garden at the Daniel F. and Ada L. Rice Plant Conservation Science Center, associate scientist and plant evaluation manager Richard Hawke has conducted a grand experiment, the largest of its kind in the United States. In a five-year study of more than 40,000 plants installed in three different soil depths (4-inch, 6-inch, 8-inch), Hawke evaluated plant performance in this most challenging of growing environments. The study has led to the publication of Plant Evaluation Notes, highlighting the most extensive list of best plants for green roofs in Zone 5.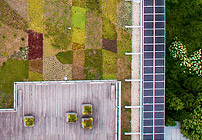 The Chicago Botanic Garden has released the results of the largest green roof plant study ever conducted in the United States.
Richard Hawke is the plant evaluation manager and an associate scientist at the Chicago Botanic Garden.