"The more high-tech we become, the more nature we need."—Richard Louv, journalist and author of Last Child in the Woods: Saving Our Children from Nature-Deficit Disorder
"Preschool educators have long known that animals, plants, water, and other aspects of the natural world delight children and draw them in as learners."—Natural Start Alliance
A growing body of research tells us that children are better off when they have daily contact with nature. Nature play encourages creativity and problem solving, boosts academic performance, helps children focus, increases physical activity, improves eyesight, reduces stress and promotes positive social relationships.
Chicago Botanic Garden scientists, educators and horticulturists credit their personal growth and professional development to early doses of "Vitamin G" (a term to describe the benefits of exposure to green environments). Their words and childhood pictures best capture the joyful impact of nature on their lives.
Kris Jarantoski
Executive Vice President and Director
I grew up in a suburb of Milwaukee, Wisconsin. We lived across the street from a woods and river, and I played there all the time. With friends, we built forts and swung around on grapevines. I noticed that the hawthorn flower had a funky smell, and to this day, whenever I smell hawthorn flowers, I'm transported back to that woods.
My parents took me to visit Mitchell Park Conservatory and Boerner Botanical Gardens. Boerner Botanical Gardens especially made a huge impression on me. It had gardens on a scale that I did not have at home and a diversity of plants from around the world that could never fit into my yard. It expanded my horticultural horizons immensely and was a fantasy world to me.
I started out in college majoring in music, playing the organ. In my sophomore year I took a botany class and was fascinated. I switched my major to horticulture and loved designing and planning gardens. Once I decided to pursue a career in horticulture, I knew it had to be working in a botanic garden.
I got my dream job in 1977, when I started working at the Garden as an assistant horticulturist. Over the years I have been fortunate to work with talented staff to plan and plant 27 distinct display gardens and four natural areas.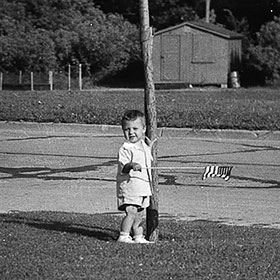 Kris at age 3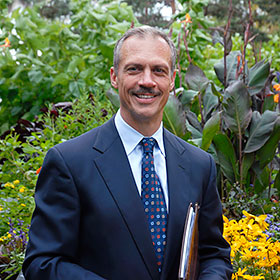 Jennifer Schwarz, Ph.D.
Vice President, Education and Community Programs
"Even though I spent the early part of my childhood in Hyde Park, Chicago, I can't remember a time when as a family, we didn't take every opportunity to head out of the city to northern Wisconsin, the Upper Peninsula or northern Michigan for camping, canoeing or hiking. Later, we moved to (almost) rural New York where, my sister, friends and I became intimately familiar with the acres of woods, fields and streams behind our house, disappearing for hours to explore our private, imagined world. As an adult, when I had the opportunity at the Chicago Botanic Garden to combine my expertise in learning science with my love of nature and share it with others, I thought, 'This is the place for me'."
Jennifer at the Morton Arboretum in Lisle, age 4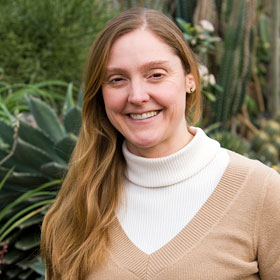 Eileen Prendergast
Director of Education
"Some of my fondest memories of childhood include our summer vacation at Silver Lakes in southwestern Michigan. My brothers and cousins and I would spend all day, every day, playing in the sand and splashing in the water. We'd take the row boat out to the "lily pads" to see if we could catch any frogs—we were disappointingly, never successful, though we did manage to get the rowboat stuck once for what seemed like an hour but was probably just a few panicked minutes. I have a particular fond memory of my close cousin Jean and I filling buckets with sand, mixing in just the right amount of water, and carefully making a batch of sand pancakes to cook on our folding chair stove. The simple pleasures derived from the freedom to play and explore outside throughout my childhood reinforces for me the importance of ensuring those same opportunities for play time in nature are available for my own children at home and the children participating in the programs at the Garden—making sure there are places to run, to hide, to dig, to splash, to have fun."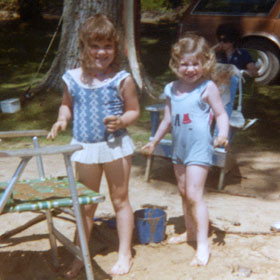 Eileen at Silver Lake in Grand Junction, Michigan, age 4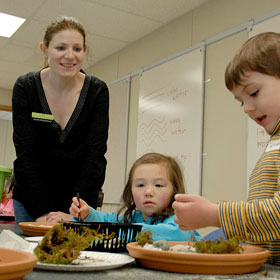 Amy Kerr Wells
Manager, Youth & Family Programs
Here I am, at age 5, with my Grandma Kerr in her garden in Iowa, which we visited every summer. I loved her garden—she told me that she had a fairy living in her garden, and we would look for it as soon as we got there. Her flowers were big and tall—almost unreal to me as a youngster. Her magical touch in nature really stuck with me; her flowers were amazing, and I did not see them anywhere else.
I still carry that "garden magic" with me. I ask our camp teachers to have kids look for the magic in a seed, a tree, a pond—to take the time to just be in nature, whether that is listening to all the sounds in the Kleinman Family Cove, digging in the soil sandbox, chasing fireflies, or rolling down a hill—taking it all in—the sights, sounds and smells.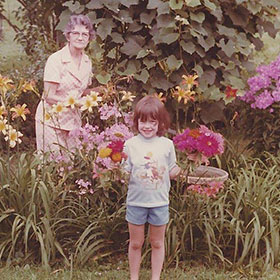 Amy in her grandmother's garden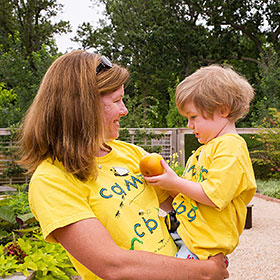 Ann Halley
Coordinator, Early Childhood Programs
My parents were born in Ireland, and, to hear them tell it, were outside every day. We lived on the west side of Chicago, and when I was 3 years-old, my dad decided that we would put in a garden. I decided that he needed my help. We gardened, played under the sprinkler, jumped in puddles and came home covered nearly head to toe in dirt just about every day.
The influence of being exposed to nature—the pretty and the messy—has very much influenced my life. Having this childhood with parents who encouraged us to "live" outside every chance that we could, allowed me to value its importance and led me to teaching children how to learn in and through nature.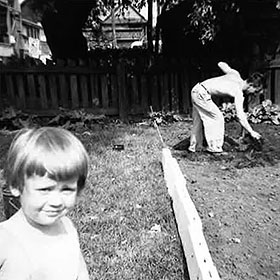 Ann Halley as a child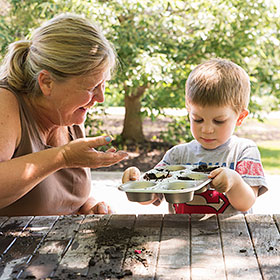 Julia McMahon
Coordinator, Family Programs
"I grew up in suburban Pittsburgh, Pennsylvania, with a landscaped front yard and a wooded backyard. I spent hours jumping from stone to stone in my mother's rock garden, picking blueberries from bushes in our front yard before the birds gobbled them up, and "designing" and planting the annual bed along the walkway to our front door. When I was 7 or 8 years old, my best friend and I were allowed to explore the woods by ourselves. One time we "discovered" a plant we called the Umbrella Plant. It was about 5 inches tall with horizontally held, fan-like branches covered in scale-like leaves. We excitedly brought it home and, although it didn't last long, the impression did. This exposure to nature and being allowed to explore outside on my own shaped many aspects of my life, including my decisions to study plant science at Cornell University and earn a master's degree in elementary education at Loyola University Chicago. My position as family programs coordinator at the Chicago Botanic Garden combines my fondness for the natural world and my love of children and teaching. I look forward to teaching and sharing similar experiences with children at the new Regenstein Foundation Learning Campus."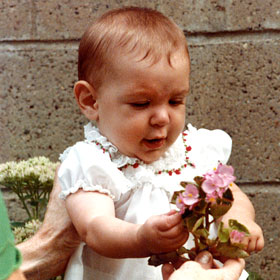 Julia as a toddler in Pittsburgh, Pennsylvania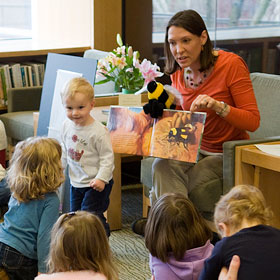 Amaris Alanis-Ribeiro
Manager, Secondary Education
"Here I am in my teens at a Chicago River clean-up in the woods, holding a toad. I was lucky enough to have attended a Chicago public high school that got me out in the forest preserves and into nature. The experiences are part of why I studied ecology, and also why I wanted to inspire other Chicago teens to do the same. Now, I recruit Chicago public high school students for Science First and College First."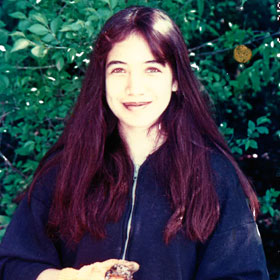 Amaris, age 14, at the Chicago River clean-up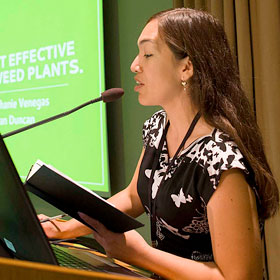 Kayri Havens, Ph.D.
Medard and Elizabeth Welch Director,
Plant Science and Conservation
"My best childhood memories were all outdoors…playing in the garden, growing vegetables, picking up seashells, going bird watching. That love of nature has stayed with me, and I consider myself very fortunate to be able to have a career that allows me to continue to explore and study plants and the natural world."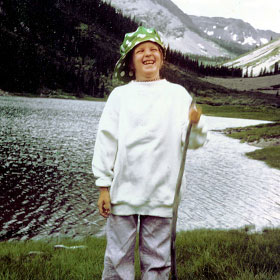 Kay on vacation in Maroon Bells, Colorado, age 7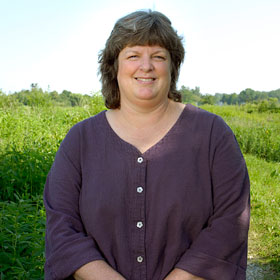 Pati Vitt, Ph.D.
Susan and Roger Stone Curator,
Dixon National Tallgrass Prairie Seed Bank
"There are very few pictures of me as a child, most of them posed…except this one. It is outside in an open field, which I and my siblings tramped around at will, falling in love with the outdoors."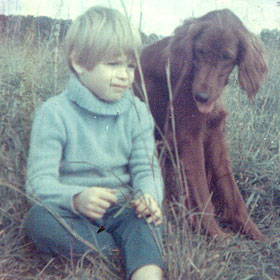 Pati in Virginia, age 6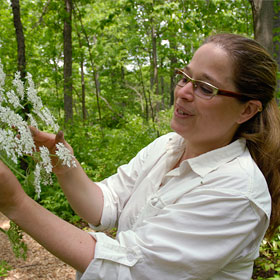 Andrea Kramer, Ph.D.
Conservation Scientist, Restoration Ecology
"I grew up in a small town in Nebraska in the corn belt where, as you can imagine, trees were not very common. I spent a lot of quality time either climbing in or sitting under this particular tree when I was young. A few years after this photo was taken, a family of owls took up residence in it. I can't imagine a childhood that didn't involve nature play—climbing trees or sitting quietly with binoculars to watch owls interact with each other and the plants that they called home helped me see the world from a larger vantage point, and made me want to understand it by becoming a scientist."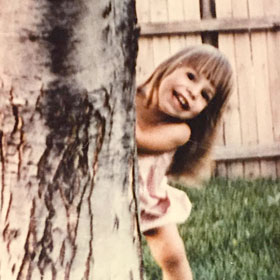 Andrea in her backyard in Nebraska, age 2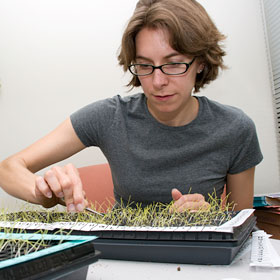 Jeremie Fant, Ph.D.
Conservation Scientist,
Molecular Ecology Lab Manager
"Growing up in a part of Australia where the weather was often nice, it was easy to spend most of your time outside. I am not sure I can remember when I was not outside in flip flops and board shorts. No matter what we were doing there was always something to get this biologist excited. Sometimes it was something as amazing as a dolphin swimming close to the beach or a kangaroo caught by surprise on our hikes. It was clear from a young age that the thing that got me so excited was the flora, and a botanist was born. The smell of the eucalyptus still sends memories flooding of hikes after rains, recalling the wonderful discover of small patches of donkey orchids in winter. Ultimately, I combined this love of native flora with working in the garden. I would often spend afternoons walking through the Adelaide Botanic Garden for inspiration and to marvel at its collections. I went to university to study horticultural sciences and volunteered on weekends at the botanic gardens as an undergraduate. All of these interactions played an obvious role in my life's trajectory as a scientist at the Chicago Botanic Garden."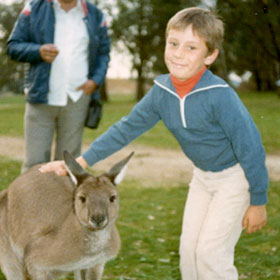 Jeremie, age 6, at home in Adelaide, Australia, with a friendly kangaroo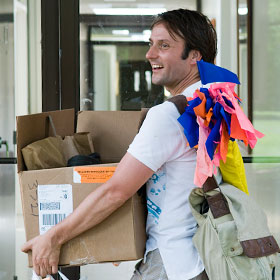 Lisa Hilgenberg
Horticulturist,
Regenstein Fruit & Vegetable Garden
"My mother was a teacher and felt that it was so important to incorporate learning play. Here's what she had to say: 'Lisa, there was probably no time in your early years that you were not 'connected' to nature. Starting with the simple joy of playing outdoors, you watered flowers for grandma and dad, made daisy chains, raked and played in the leaves, built snowmen, ice skated and sculpted sand castles at Lake Harriet, Minneapolis. You planted gardens, learned to fish at Deer Lake. You loved having collections of rocks and leaves (author's note: yes, I majored in geology and my childhood rock collections are still in the basement). Your love of dogs, gerbils, fish, white mice, even squirrels (you fed them peanut butter crackers at the back door). You were bonded to nature as a young child and it continues to this day!"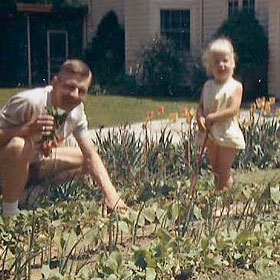 Lisa, age 3, with her dad in Iowa
Heather Sherwood
Senior Horticulturist,
English Walled Garden and Oak Meadow
"In my early childhood, I remember playing at my friend's house. They had a very old forsythia bush, perfect for 'house building,' great tunnels and hours of imaginative fun! When we were a bit older, the same best friend and I would meet down by the creek (between our two houses about a mile from each of us). We would spend hours walking in the creek bed, looking for crayfish, spiders, plants. (We brought skunkweed home to harass our siblings.) We would build forts with branches and grasses. When I was 12 years old, on a family vacation we went to an enormous conservatory at the Grand Ole Opry Hotel. I walked into a breathtaking environment, and I knew. I knew I wanted to make people feel that same rush, excitement, wonder, as I did and I was going to do it with plants. The rest, as they say, is history."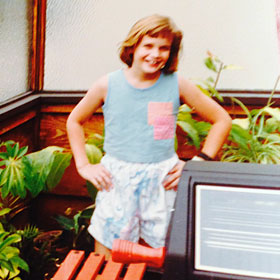 Heather in a greenhouse in California, age 7
Tom Weaver
Horticulturist,
Waterfall Garden and Dwarf Conifer Garden
"This picture was the first time I had flowers of my own and it was so exciting! Even to this day I still try to make sure I have at least one zinnia plant somewhere in my life, whether it's in a garden I work in at the Chicago Botanic Garden or at home because I fell so in love with the flowers as a child!"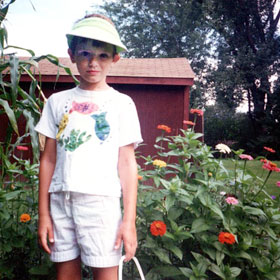 Tom in Little Canada, Minnesota, age 7