Spring Ephemerals in the Woods
"The wonder of the world, the beauty and the power, the shapes of things, their colours, lights and shades—these I saw. Look ye also while life lasts." —Anonymous lines found on an old tombstone in Cumberland, England
"While life lasts." This can be a very brief moment in time for a spring ephemeral. In that narrow window of time between thawing ground and the leafing out of the tree canopy, spring ephemerals—those woodland wildflowers that emerge, then quickly go dormant—live their lives. 
If you want to see some of the spring woodland flowers in bloom, you often have to be there on the day they appear. In your local forest preserves, as in the McDonald Woods at the Chicago Botanic Garden, sometimes all you find are petals scattered on the ground, and you realize you have to wait another year. This is particularly true of species like bloodroot (Sanguinaria canadensis), whose blossoms only last for a day before they drop. Additionally frustrating is that cloud cover can hamper catching the full glory of the blooming of some species. You may show up on a sunny morning only to have the blossoms close up before your eyes. Species like spring beauties (Claytonia virginica) will only open in the full sun and will close again if clouds appear. This response to sunlight may be the result of temperature or light. Some ephemerals might provide longer viewing opportunities, since they hold their flowers for a longer period of time, or have many more plants that flower on different days.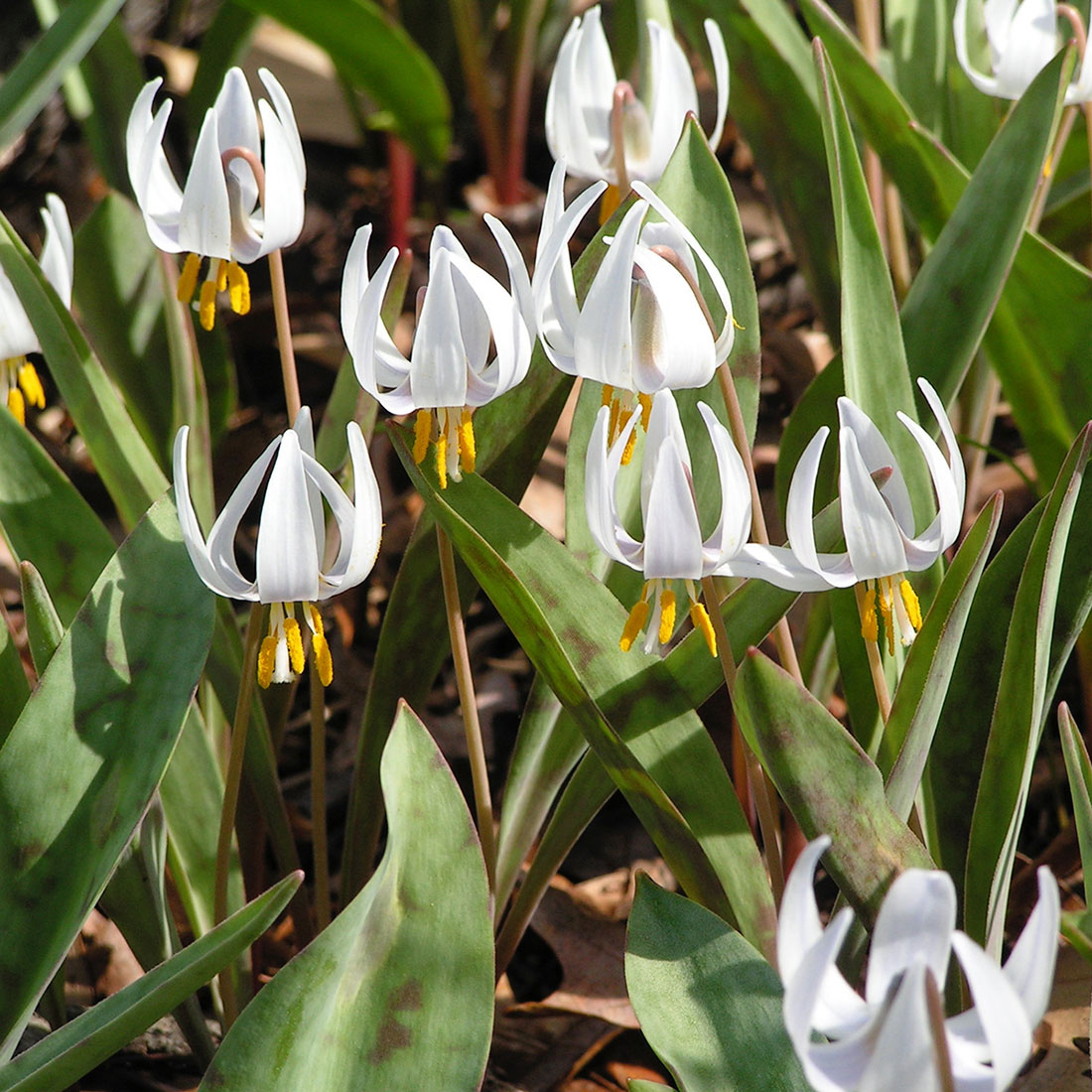 White trout lilies (Erythronium albidum)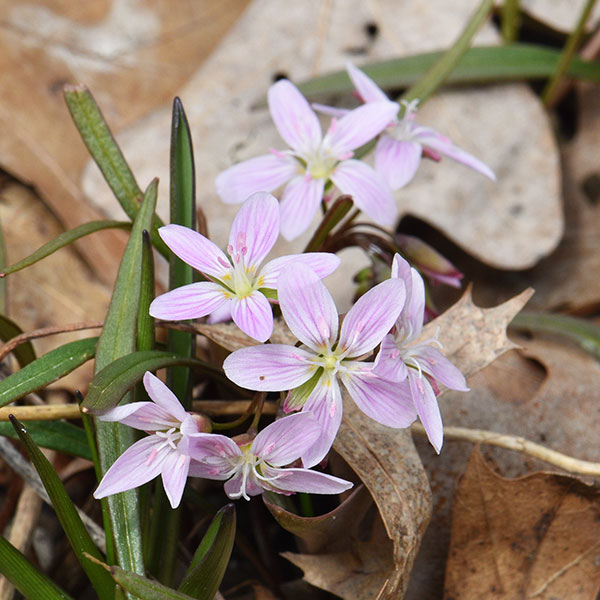 Spring beauties (Claytonia virginica)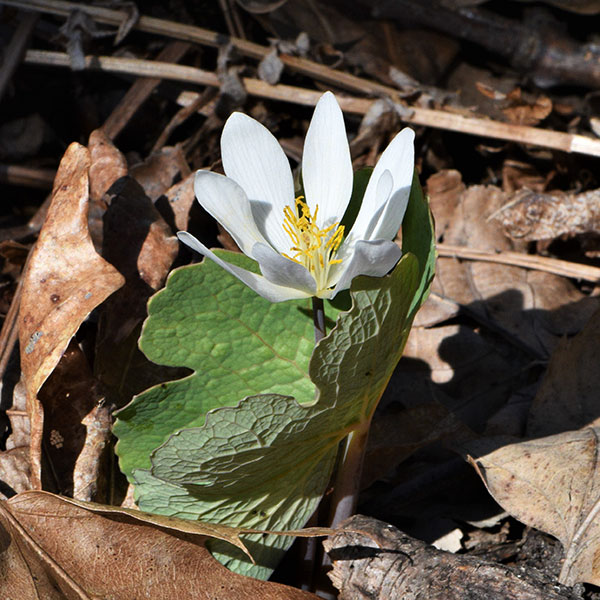 Bloodroot (Sanguinaria canadensis)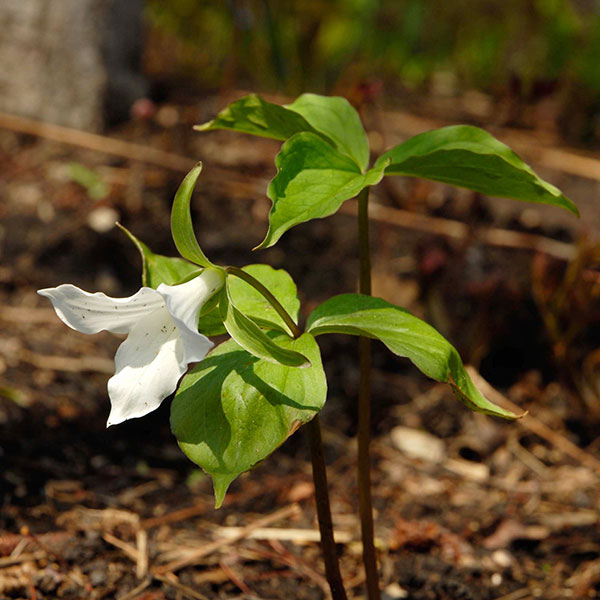 Great white trillium (Trillium grandiflorum)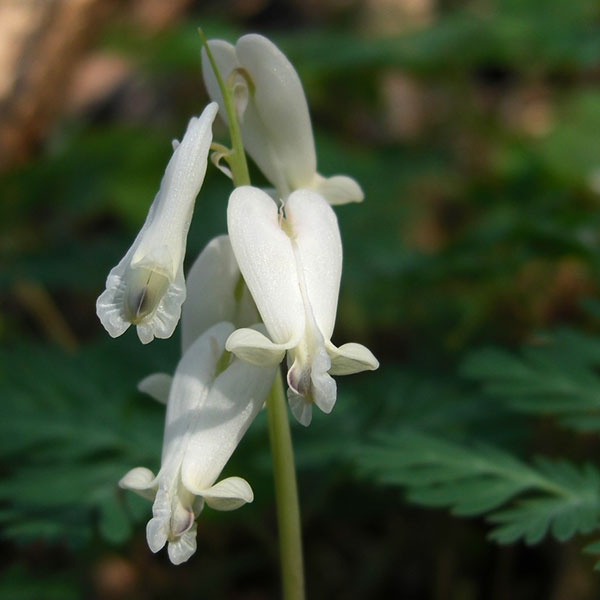 Squirrel corn (Dicentra canadensis)
Jason Hollinger / CC BY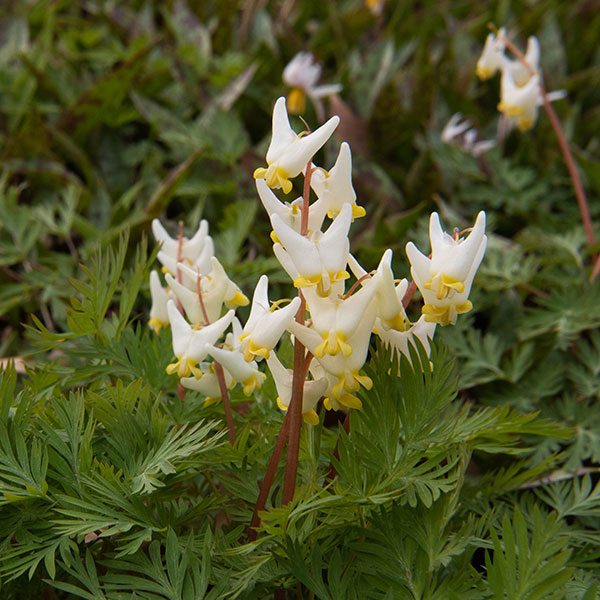 Dutchman's breeches (Dicentra cucullaria)
Most of the spring ephemerals are perennial. They have underground organs—bulbs, corymbs, etc.—that store nutrients to be used for producing leaves and flowers in succeeding years. White trout lilies (Erythronium albidum) are a good example. The trout lilies, both white and yellow species, derive one of their common names from the mottled leaves that some think resemble the markings on a trout. (Other common names include adder's tongue and dog-toothed violet—the second name is curious because these are plants in the lily family, having no relationship to violets.)
In the constellation of singular spring flowers, there are a few stars that shine more brightly than the rest. Perhaps the fairest of them all is the great white trillium, Trillium grandiflorum. A member of the lily family and native to eastern, southeastern, and midwestern states, trillium grows happily in heavily composted, partially shaded woodlands in the company of a community of interdependent woody shrubs, tall trees, dried leaves, and other soil components, insects, bacteria, and fungi. In the Chicago area, where spring weather and associated bloom times are unpredictable, it usually flowers between April and early June. Companion wildflowers include mayapples, Dutchman's breeches, wood and rue anemones, Jack-in-the-pulpits, shooting stars, and many other tiny treasures of the woods.
There are also a few annual spring ephemerals. False mermaid (Floerkea proserpinacoides) is a spring ephemeral annual. Unlike many of the other ephemerals, false mermaid is inconspicuous in that it is a small, ferny green plant with tiny greenish flowers. Portions of the nature trail in the McDonald Woods are surrounded with acres of this species in spring. Even in these large numbers, without close inspection, it is difficult to tell when they are in flower. This species is dependent on its flowers producing one to three large seeds to be able to reproduce itself after the plant turns yellow and dies.
Pollinators
Many of the spring ephemerals depend on native bees for their pollination. While these plants often have specialist pollinators associated with them, they usually have several different pollinators that can visit, including other native bees and many species of flies. Besides being important sources of nectar and pollen for native insects, the spring ephemerals also serve the purpose of saving soil and reducing water runoff during a time of year when few other plants are growing.
One other fascinating thing about spring ephemerals is that essentially all of them rely on ants to disperse their seeds. This relationship is referred to as myrmecochory—myrmex is the Greek word for ant.
Each seed of the spring ephemerals has a structure called an elaiosome attached to its surface that attracts ants. The elaiosome is rich in lipids and proteins. The ants take the seeds back to their nests and consume the elaiosome as food, after which they bring the seed to the surface and deposit it on their trash piles, where the seeds tend to germinate in a rich, organic seedbed.
Your Garden
Gardeners often wonder if it's possible, in suburban or even urban areas, to establish a little piece of woodland of their own. The answer is yes. Start by planting the entire community of plants together at the same time. It will be easier to get the many species growing together. The healthy competition and relationships among plants are part of their genetic memory. Spreading plants are more likely to stay in place when they are planted as part of their whole native community. Adding plants later is difficult because competition may be too great for new plants to establish easily. Avoid collecting plants in the wild, since that disrupts the fragile balance of plant relationships within that entire community. Collecting in the wild also depletes the supply of native plants and leads to degradation of their natural habitat. In a season or two, you can establish a piece of woodland paradise of your own and help pollinators at the same time.