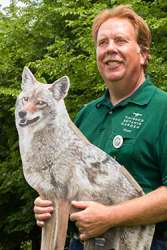 Supervisor, Plant Health Care Department
Tom Tiddens has worked at the Chicago Botanic Garden in the Plant Health Care department for 25 years. In 1994, Tiddens was promoted to supervisor of the department. Since then, the department has significantly reduced its use of pesticides and fertilizers. His primary duties involve protecting the Garden's plant collections from diseases, pests, and weeds in an environmentally sensitive manner.
Tiddens is a certified arborist through the International Society of Arboriculture and serves as the Garden's lead arborist in managing tree care and risk assessment. He is also the containment director for the Butterflies & Blooms exhibition and is responsible for butterfly health and management as well as the permitting process through USDA. Tiddens is  the Garden's representative in the Sentinel Plant Network, which unifies botanic gardens in an effort to monitor for and provide education on high consequence pest and pathogens that threaten the nation's flora, agricultural crops, and ornamental plants.
Tiddens also is an instructor for the Joseph Regenstein, Jr. School of the Chicago Botanic Garden. He has a bachelor of science degree in engineering technology from Northern Illinois University and a master of science degree in natural resources and environmental sciences from the University of Illinois.