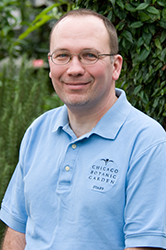 Krasberg Rose Garden
Heritage Garden
Linden Allée
Tom Soulsby is the senior horticulturist for the Rose Garden, Heritage Garden, and Linden Allée. He is responsible for curating and maintaining a collection of more than 5,000 roses; the Garden has one of the largest public rose collections in the country.
Soulsby is also responsible for overseeing and coordinating the maintenance of a group of diverse Garden areas including the Crescent, the Esplanade, and the Farwell Landscape Garden. He manages detailed horticulture projects and collaborates with Garden designers on exhibitions such as Wonderland Express and the Orchid Show.
Soulsby is an instructor at the Joseph Regenstein, Jr. School of the Chicago Botanic Garden. He also created and coordinates the Meet the Horticulturist program and is the local manager and a judge for the American Garden Rose Selections rose evaluation program.
Before pursuing his passion for public horticulture, Soulsby was a director at a global financial institution. He has a bachelor of science degree in business management and administration from Bradley University. He earned his formal horticulture credentials at the Regenstein School. Soulsby has been honored as an Outstanding College First Mentor and with the Garden's Employee of Distinction award.
As a lifelong gardener, some of Soulsby's best horticulture education has come from practical hands-on gardening that included working as a child alongside his dad. His love of gardening carries over to his own home, which features an abundance of fruits, vegetables and ornamental plants that he, his wife, and two children enjoy.