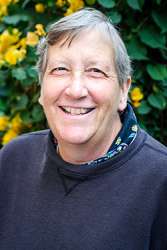 Nursery Supervisor, Plant Production Department
Barbara Raue is the Plant Production department's nursery supervisor. Many of the Garden's more unique and difficult-to-source plants are grown in the nursery.
Raue started working at the Garden in 1986, as a horticulture intern rotating through different departments. Following her internship, in the next seven years, Raue worked as a horticulturist for the Farwell Landscape Garden, Native Plant Garden, Graham Bulb Garden, and Aquatic Garden. She transferred to Plant Production as a grower for indoor floriculture in 1996 and then to the nursery as a grower in 2001. Raue was promoted to nursery supervisor in 2002.
Raue has a bachelor of science degree in plant and soil science from Southern Illinois University. She has always enjoyed working outdoors and being around plants.