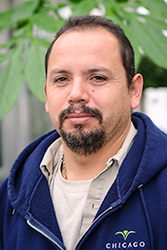 Assistant Grower, Greenhouse
Rigoberto Montoya is an assistant grower for the Plant Production department's indoor floriculture division. He is responsible for the day-to-day care of plants, and he comes up with innovative ways to grow the specialty crops for display. He also assists with the delivery of plants to the garden areas and operates a forklift to unload deliveries of soil, plants, and hard goods.
Montoya has been with the Garden since 1996, when he began work as a seasonal employee in the Grounds department. He moved to Plant Production as a seasonal employee in 1997 and was promoted to full time in 2001.