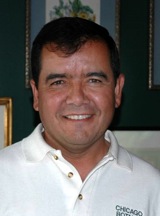 Supervisor, Grounds Department
Leo Melecio joined the Horticulture department as a seasonal employee in 1980. He grew up on a farm near Celaya, Guanajuato, Mexico, where he learned how to operate equipment and take care of plants. Within a few months, Melecio was promoted to foreman; then a few years later, he became Grounds supervisor. 
Melecio supervises four regular employees and 43 seasonal employees, and is responsible for general grounds maintenance, major event support (set up and tear down), and the landscape waste program. He is an expert equipment operator and trains staff and volunteers in safety and equipment operation. Melecio also teaches for the Joseph Regenstein, Jr. School of the Chicago Botanic Garden.