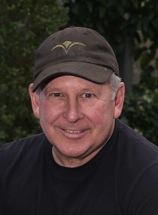 David Cantwell is the assistant horticulturist for the Garden Wall and Berm—the exterior plantings at the Chicago Botanic Garden's signature brick wall stretching along the western border from Lake Cook Road south to Dundee Road, consisting of more than eight acres of planting beds, more than 100 plant taxa, and thousands of shrubs, trees, grasses, bulbs, and perennials.
Cantwell has been with the Garden since 2003, when he began as a seasonal horticulture assistant working in the Landscape Demonstration Garden. Shortly thereafter, he was promoted to Grounds department crew leader and then in 2008 to assistant horticulturist for the Garden Wall and Berm. He also teaches for the Joseph Regenstein, Jr. School of the Chicago Botanic Garden.
Cantwell has a bachelor of arts degree in mass communications from Columbia College, Chicago, and a master of science degree in integrated marketing communications from Roosevelt University, Chicago. Before working at the Garden, he worked in healthcare marketing.
His love for horticulture began at an early age by helping his father in the garden, where he developed an appreciation for plants and hardscapes. He has served on the village of Wheeling's Plan Commission for landscape design review. He has designed gardens for private residences and residential communities.