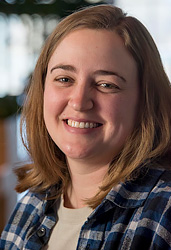 Jamie Berlin is the horticulturist for the Lavin Evaluation Garden and Green Roof Gardens at the Daniel F. and Ada L. Rice Plant Conservation Science Center.
The Lavin Evaluation Garden is home to the Garden's Plant Evaluation Program, featuring plants best suited for Midwestern gardens and those in similar climates. The Green Roof includes a south garden with plants native to North America and a north garden with native and exotic plants that show potential for future green roofs.
Berlin has been cultivating her passion for plants since she was a child and went on camping trips with her father. She received a bachelor of science in forestry from Michigan State University and has been with the Garden since 2013. Previously, she interned at the Morris Arboretum, worked on restoration projects for the National Audubon Society, and collected native seed for the Seeds of Success Program.