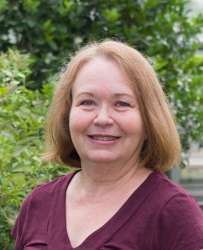 Manager of Horticulture Services
Grounds Department
Plant Health Care Department
Landscape Waste Program
As manager of horticulture services, Cindy Baker is responsible for the care and maintenance of more than 100 acres of ornamental landscaping. She also manages the Grounds department, the Plant Health Care department, and the Landscape Waste Program, supervising a staff of ten permanent and 43 seasonal workers. 
Baker has a bachelor's of science degree with honors in agronomy and horticulture from the University of Arizona. She also has completed graduate course work in both horticulture and human resource development. As an undergraduate, she volunteered at the Boyce Thompson Arboretum in Globe, Arizona; the Arizona-Sonora Desert Museum in Tucson, Arizona; and the Arizona Native Plant Society, where she fell in love with the public garden world. From there, she had an internship at the Desert Museum and later was employed as a landscape technician. 
Baker began working at the Chicago Botanic Garden in 1988, as the internship and professional training coordinator. She supervised and mentored more than 250 college students and public garden professionals. She also was the first project manager for the Skokie River Restoration Project—an 11-acre transformation of an eroded stream bank zone into a prairie and wetland demonstration garden.
Baker has been involved with many projects, events, and classes at the Garden since 1988. She is a regular guest on the WGN-TV Morning News "Botanic Backyard" segments. Baker is also a frequent speaker at the American Public Garden Association's annual meetings and has served as committee chairperson for both the Grounds Management and the Student Education Committees.