Food, Community & the Power of the Seed
Sunday, January 27, 2019
1:30 p.m.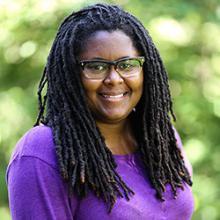 Seed Savers Exchange Board Director Jovan Sage is a creator, food alchemist, herbalist, grower, wellness coach, and restauranteur through her Brunswick, Georgia businesses The Farmer and the Larder and Sage's Larder. In our guest speaker's words, "We can all agree that good food and community go hand-in-hand." Learn the power behind building community and connecting our cultures through the seed. Jovan will share connections between the growing and community building she does on her land and in her regional Georgia coast community to the larger international work that Seed Savers Exchange does. Don't miss an opportunity to meet Jovan and experience the passion she has for the mission of Seed Savers Exchange and her community-based work. Lecture is free; regular parking fees apply; preregistration required.