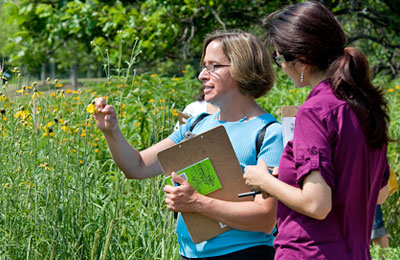 The Green Teacher Network (GTN) is a powerful collaboration of the Chicago Botanic Garden, the Garfield Park Conservatory Alliance, and Openlands. Through teacher trainings and events, the goal of GTN is to foster the use of plant-based learning in Chicago area schools and support teachers' efforts to create and use school gardens or growing spaces as curricular tools.
For further information or for your school to become a member, contact Kristin LoVerde at Openlands at (312) 863-6270 or kloverde@openlands.org
GTN Membership Fee: $100 per School
Membership Includes:
Four professional development programs per year featuring leadings in the field, lessons for the classroom, networking opportunities, and more. (Up to three teachers, administrators, parents, or volunteers from each member school can attend each training.)
A reduced admission to the School Gardening Conference for up to two people from each member school.
E-newsletter with up-to-date information on programs, classes, and other vetted materials
An opportunity for teachers to increase their content knowledge in school gardening, plant science, and community building
Tools and techniques that will enable teachers to turn their gardens into living laboratories
CPDUs earned at every meeting
Download a PDF of the Green Teacher Network brochure and membership form.