Saturday & Sunday, August 22 & 23, 2020
11 a.m. – 4 p.m.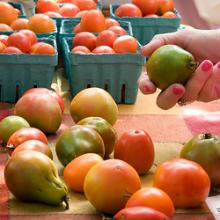 Regenstein Fruit & Vegetable Garden
Admission is free. Regular parking fees apply.
Get new ideas about everyone's garden favorite, tomatoes—along with many other summer-fresh vegetables—with programs focused on growing and using heirloom varieties.
Take a Regenstein Fruit & Vegetable Garden tour with the staff horticulturist and learn how easy it is to save your own heirloom/open-pollinated tomato seeds at demonstrations throughout the weekend. Select vendors will have a variety of items for sale from homemade pepper jams to heirloom popcorn, honey, and more. 
Event Highlights
Learn from the Experts
Explore the many varieties of tomatoes and heirloom vegetables you can grow in your home garden; get growing tips, solve your growing problems, learn more about saving the seeds of heirloom and open-pollinated varieties of vegetables, and get ideas for cooking and preserving as well.
Take a tour with the Fruit & Vegetable Garden horticulturist at 2 p.m. (tour lasts about 30 minutes), and watch seed-saving demonstrations at 12:30 and 3 p.m. (demos last about 20 minutes).
Shop at the Market
Purchase a variety of products from an array of local vendors including Tiny But Mighty Popcorn, Rollicking Buckaroo Pepper Jam, The Guiltless Garden (Sunday only), Garden City Microgreens (Sunday only), Wanderlust Sea Salt and Xanadu Forests Apiary. 
Plant Giveaway
We will be handing out free Tuscany basil seedlings, while supplies last.
Garden Chef Series
Visit the kitchen amphitheater at 1:30 and 2:30 p.m. for live garden chef demonstrations.