Saturday, September 18, 2021, noon – 4:30 p.m.
Sunday, September 19, 2021, 10 a.m. – 4:30 p.m.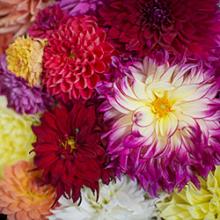 What is it about dahlias that has attracted so many fans and admirers? Dahlias are known for their unique features, vibrant colors, perfect petal arrangements, and overall "wow" factor.
Get ready for an explosive burst of color at the Central States Dahlia Society Show at the Chicago Botanic Garden. More than 2,000 flowers in the dahlia family will be judged and on display in a wide variety of colors, sizes, and forms, with floral designs and photography completing the show. Society members will be on hand to provide written information and to answer questions about dahlias.