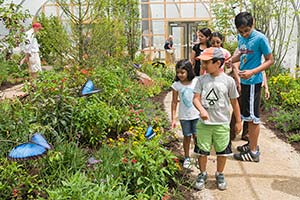 Saturday, May 27, through Monday, September 4, 2017
10 a.m. to 5 p.m. daily, weather permitting
Children's Learning Campus 
The popular Butterflies & Blooms exhibition returns. Visitors are immersed in a tropical habitat full of hundreds of colorful butterflies interacting with plant life. Butterflies & Blooms features butterflies from around the world, including South America, Asia, North America, and Africa, as well as those native to Illinois. Volunteers are also on hand to answer questions. The 2,800-square-foot white mesh enclosure is located on the Annex Road, as you head out from the Visitor Center to McDonald Woods.