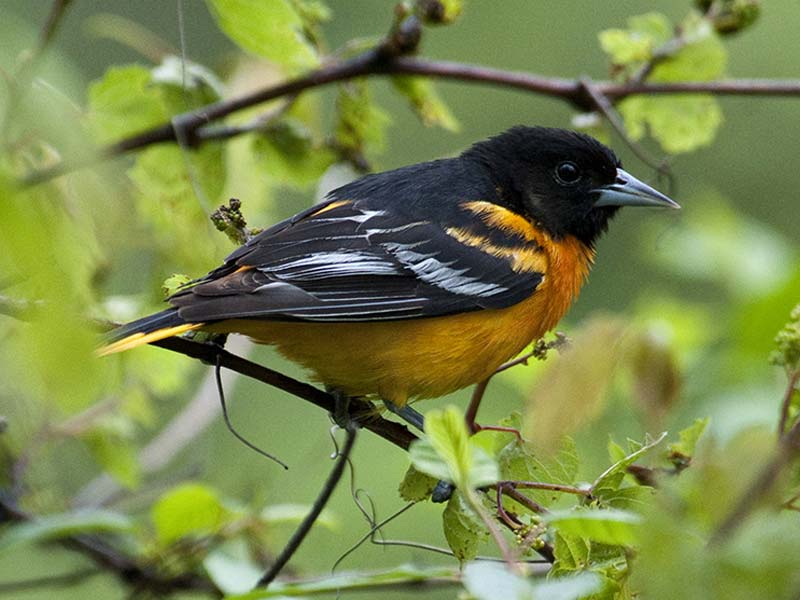 This brightly colored member of the blackbird family is a common breeding bird at the Garden. It is usually found around groves of cottonwoods and willow trees where it constructs a characteristic, pendent nest.
In early May, when the leaves of maples are unfolding into a soft green, the Baltimore oriole (Icterus galbula) returns, giving his liquid "tea-dear-dear" song in suburban yards and forest preserve edges.
Homeowners who put oranges and grape jelly in feeders are often rewarded with a look at the male with his black head and back contrasting with his brilliant orange breast as he eats a spring meal.
Later, the female, with a dusky-colored head and yellowish-orange breast, will come. If she sees some 12-inch-long soft strings of light-colored yarn put out by humans, she may snatch them to make her nest. A common breeding bird of open woodlands, natural spaces, gardens, and parklands, the oriole has returned from its winter in the South: Florida, the Caribbean islands, southern Mexico, Central America, and northern South America.
By May, Baltimore orioles have arrived in the eastern United States to set up breeding territories. To get her attention, the male hops around the female, spreads his wings, and bows forward. The female responds by fanning her tail, fluttering her wings, and chattering. The female weaves plant fibers including grapevine bark, grass, and other materials such as yarn (and even horsehair) to build a hanging, pendulous, pouch-like nest. Typically, orioles nest about 20 to 40 feet high at the end of a branch. Their preferred locations are on cottonwoods, American elms, and maples.
In his Life Histories of North American Birds series, Arthur Cleveland Bent noted that the oriole is "perhaps the most skillful artisan of any North American bird." Those lucky enough to see an oriole nest will most likely agree. It can take a week to ten days for the female to complete her nest. She'll then lay three to seven pale eggs blotched with brown, which hatch in 11 to 14 days. The young remain in the nest for another 11 to 14 days, getting fed constantly by their parents, until they're able to hop out onto a branch, exercise their wings, and then fledge.
These colorful birds eat insects, fruit, and nectar, (and grape jelly!), and can help keep populations of pests such as gypsy moth caterpillars in check. Agile members of the blackbird family, orioles can hang upside down and walk across twigs, or fly directly from perches to grab flying insects. Besides the "tea-dear-dear" song, orioles also give a series of chatters and scolding notes, which can alert you to their presence.
As summer goes on, the orioles seem to disappear, spending most of their time feeding young and less time singing and chattering. But come mid-August to early September, the orioles start singing again—often shorter songs—before they leave for winter vacation.