Saturday, February 22, 2020
8:30 a.m. – 3:30 p.m.
Saturday, November 7, 2020
9:30 a.m. – 4:30 p.m.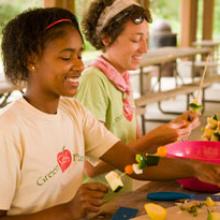 Are you interested in learning more about how to work with youth in an urban agriculture or school garden setting? Would you like to know more about structuring a youth development program centered on sustainable agriculture and food systems during the summer or school year? Please join the Windy City Harvest Youth Farm staff for a day of focused learning. We will discuss incorporating standards for social and emotional learning, adultism, managing student behavior, lessons learned, and challenges faced.
The day's program will include an overview of our program structure and curriculum; how to foster a safe environment in which students of all abilities can grow, including implementing team-building activities; setting shared standards; providing student evaluations and feedback; and celebrating successes.
Saturday, February 22, 8:30 a.m. – 3:30 p.m.
Location: Farm on Ogden, 3555 Ogden Avenue, Chicago

Saturday, November 7, 9:30 a.m. – 4:30 p.m.
Location: Chicago Botanic Garden, 1000 Lake Cook Road, Glencoe