Tuesday, December 4, 2018
10 a.m. – noon or 6:30 – 8:30 p.m.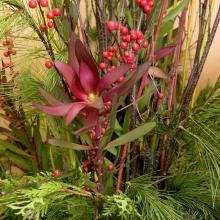 Explore the winter containers at the Garden and learn ways to extend your own containers into the winter season. Then prepare a container with fresh-cut evergreen boughs and berried or brightly colored branches. Please bring gloves and pruners.
Tom Weaver, horticulturist, Chicago Botanic Garden
Classroom 4, Learning Center