Thursday, December 9, 2021, 6 – 8 p.m.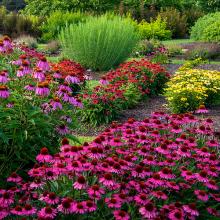 New! What are the differences between a native plant and a nativar? Evaluations of nativars' characteristics go beyond disease resistance and aesthetics. Discover some of the differences, like foliage color, possible effects on pollinators, plant size, and flower shape to help make decisions about plant selections. Learn about some native garden favorites and their cultivated cousins and how to successfully use both. The School's CEUs=2 hours
OPC elective
This class will be taught online via Zoom. All registrations must be submitted online two days before your class starts. Registered students will receive login instructions one day in advance.
Elizabeth Paine, horticulture educator