11 Wednesdays, January 10 – March 21, 2018, 6:30 – 9 p.m.
and 2 Saturdays, January 27 & February 10, 1 – 4 p.m.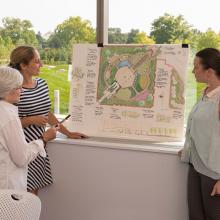 Apply skills learned in Graphics toward a working understanding of the initial phases of a landscape design project. Lectures will focus on the preliminary steps necessary to begin a landscape design project and carry the project through the conceptual design phase, including site measurements, base maps, site analysis, programming, functional use diagrams, conceptual design plans, and preliminary cost estimates. Prerequisite:
Graphics (courses can be taken concurrently).
PGL 2 and GDC requirement

Paul Laiblin, senior project manager, Scott Byron and Co.
Classroom 5, Learning Center