The program evaluates herbaceous and woody plants in comparative trials, ultimately recommending the top performers to gardeners and the horticulture industry. More than 1,200 taxa (representing approximately 55,000 plants) were evaluated last year in the Bernice E. Lavin Plant Evaluation Garden, William Pullman Plant Evaluation Garden, the Ellis Goodman Family Foundation Green Roof Garden South, and the Josephine P. & John J. Louis Foundation Green Roof Garden North. In 2013, several new projects were started, including a trials of ornamental grasses (Molinia spp.), shrubby bush clovers (Lespedeza spp.), and Russian sages (Perovskia spp.).
About the Plant Evaluation Program
Field observation, years of experience, and a passion for plants—all blend together in the Plant Evaluation Program. This program is dedicated to the scientific study of perennials, annuals, vines, shrubs, and trees.
The Plant Evaluation Program, managed by Richard Hawke, is one of the largest and most diverse in the nation. It is also one of the few programs in the United States that formally evaluates perennials. The Plant Evaluation Program received the Award for Program Excellence from the American Public Garden Association in 2008.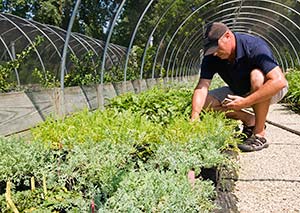 "So many plants have a premium price, and if they don't perform as expected, people get disenchanted," said Hawke, the plant evaluation manager. "You'll find what's hot and new in catalogs and magazines, but I'm all about the tried-and-true. We're here to tell the average gardener and the green industry how plants performed in our evaluations."
The goal of the program is to determine, through scientific evaluation, which plants are superior for gardens in the Upper Midwest. Plants are rated on ornamental qualities, cultural adaptability, winter hardiness, and disease and pest resistance. It is the intent of the program to study and recommend plants that are readily available in area nurseries. Study results are published and reported to both the professional industry and the gardening public.
The evaluation studies are conducted over a long-term period:
Four years for perennials
Six years for shrubs and vines
Seven to ten years for trees
"We observe and review them over a long period so we can say with fair certainty how the plant performs for us," Hawke said.
The fun part for Hawke is starting a trial with unfamiliar plants, such as the spring- and summer-blooming geums, which are attractive perennials but not well known. "When I decided to do geums, I knew two varieties: 'Mrs. Bradshaw' and prairie smoke. This is a wonderful opportunity to look at a group of plants much greater than just those two. They're long-lived, have an attractive leaf, and tolerate full to half sun." Although the Geum trial is still underway, many selections received preliminary positive recognition last year. Hawke is also involved in evaluating the potential for some popular ornamental plants, such as maiden grass (Miscanthus) and smartweed (Persicarial/Polygonum), to be invasive. This is a concern not only for home gardeners, but for forest preserves and other open spaces where invasive plants compete with native plants.
Two gardens at the Chicago Botanic Garden have served as the program's home. The Lavin Evaluation Garden is a 2.5-acre site with uniform growing conditions, which include full sun and exposure to wind in all directions. The Pullman Evaluation Garden, which is the site of the Garden's original test garden, was a landscaped garden for evaluating perennials, vines, shrubs, and small trees suitable for partially shaded conditions. (It has been closed to accommodate construction of new, expanded production greenhouses on the Kris Jarantoski Campus.)
Information on top-performing genera that have been previously evaluated in the program is available in Plant Evaluation Notes, available for download below or for order through the Plant Evaluation program. For a list of plants currently under evaluation in the program, click here.
Plant Evaluation Notes