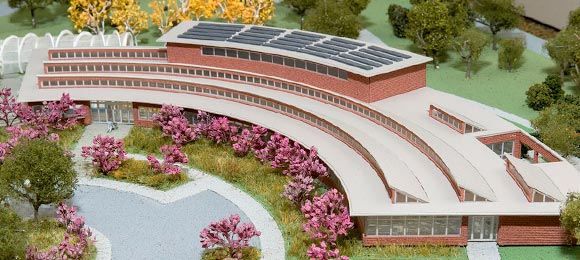 "From a small seed, a mighty trunk may grow." — Aeschylus
There is a place where the power of plants to sustain and enrich learning is taking real form at the Chicago Botanic Garden: the Education Center and Garden. The April 2015 groundbreaking for the Education Center and Garden signals that the quest to establish the seven-acre Regenstein Foundation Learning Campus is nearing completion. The Center, which anchors the Campus on the north end of the Garden, is the last of the Learning Campus components to take shape and is expected to be finished in 2016. Other components include the Robert R. McCormick Foundation Plaza and entry drive (completed in 2011), the Grunsfeld Children's Growing Garden (2012), and the Kleinman Family Cove (2012). 
The Regenstein Foundation Learning Campus is part of "Keep Growing," a ten-year strategic plan launched in early 2010 that guides the Garden's work. The plan includes a $125 million capital and endowment initiative. Also part of the strategic plan is the Kris Jarantoski Campus, a new plant production facility and garden just starting to take shape on the Garden's south end.
Innovative programs from pre-K through Ph.D.
The Center's programs will focus on plants and the complex environmental factors—climate, water, human development, and invasive species—that support or undermine healthy ecosystems. The goal is to provide both familiar and new ways of exploring and understanding science and environmental sustainability for students of diverse backgrounds from preK through Ph.D. and beyond, a continuum that is rare in the museum world.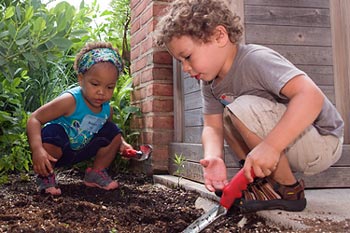 The Education Center will serve as headquarters for the Garden's plant-based educational programs for all ages. The programs first engage very young children (alongside their parents and caregivers) with early childhood and preK programs, followed by elementary, middle-school, and high-school options that help students prepare for college. Ultimately, students can be connected with college and doctorate-level research opportunities offered through a partnership between the Garden and Northwestern University. 
Within the new Education Center, an early childhood specialist will work with Garden staff to launch a nature preschool, expand the Little Diggers and My First Camp programs, and increase early childhood provider training programs. In particular, nature-based play programming for children ages birth to age 3 will expand, with infants and toddlers able to practice their motor and socialization skills and engage in creative and imaginative play while immersed in a plant-rich environment.
The Education Center will also house the Joseph Regenstein, Jr. School of the Chicago Botanic Garden, enhancing its ability to serve its many adult students. A typical day might begin with adult wellness and lifestyle classes in the early morning, followed by early childhood and Camp CBG or school field trip programs throughout the morning and early afternoon, visits by participants in Science First and College First, and Scout badge programs and adult cooking classes in the evening.
Distinctive, Energy-efficient design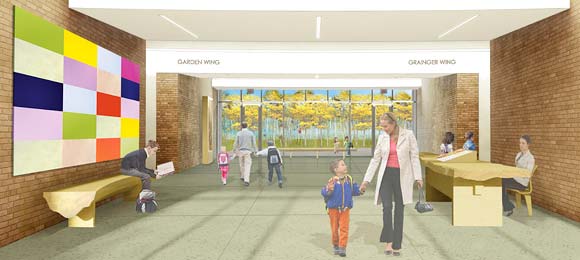 The 26,700-square-foort Center—a curving, architecturally distinctive building—was designed by Booth Hansen, the Chicago architectural firm that won honors for the Garden's Daniel F. and Ada L. Rice Plant Conservation Science Center. Engineered to achieve high standards of energy efficiency and certification by the U.S. Green Building Council, the Center will be efficiently ventilated, cooled, and heated, and will include recycled materials, a rainwater capture and storage system, and solar panels to generate energy. With the Astellas Atrium providing both an entrance and a venue for interpretive plant science displays, and offering an observational beehive and peek-through windows showing the internal mechanics of the building's sustainability features, the Center will be a welcoming and fascinating place for people to visit.
Classrooms and other features
The light-filled atrium divides the building into the Grainger Wing for classroom education and a public wing for community programs. The 2,000-square-foot atrium will welcome visitors and offer activity space for students and groups.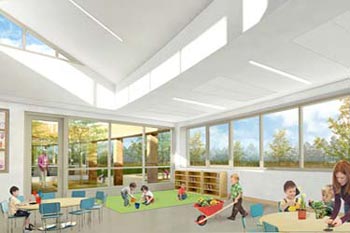 The Grainger Wing features eight classrooms, including two dedicated to early childhood development, and a nature laboratory for students to investigate plants year-round. The two early childhood programs and one regular classroom (primarily for adult use) will open to their own outdoor spaces. Classroom teaching tools will include wireless computer communications, active use of Geographic Information System (GIS) technology, and smart boards to convert classroom notes and drawing into electronic records. 
The public wing will contain two larger rooms for wellness classes and meetings, plus the ITW Kitchen Classroom, where the focus will be on fresh-food preparation and the basic math, chemistry, and physics of cooking. 
The Butterflies & Blooms exhibition will be a permanent, year-round feature of the Education Center. Filled with hundreds of live butterflies and moths, this Lepidopteran exhibition includes species native to South America, Asia, North America, and Africa, as well as those native to Illinois.
In addition, a meteorology station will offer a course allowing teens to explore the interaction between weather, climate, and ecosystems.
New Education Center, New Programs
Garden educators are developing new program concepts for the Education Center that illuminate the genius of nature and the cross-disciplinary knowledge behind plant science research, development, and discovery. These programs include the following:
Biomimetic Solutions: The Garden will expand on a nascent collaboration with the engineering department at Northwestern University to develop a multisession biomimicry course that will challenge teens to examine the natural structures around them and to use unique features of those structures to address human design problems.


Defending the Pollinators: As a core feature of the Education Center's programming and informal messaging to its audiences, the Garden will create an integrated pollinator story consisting of the Butterflies & Blooms exhibition, an observation beehive, and associated Garden science reports and other media that help visitors understand our reliance on pollinators and what threatens and protects them.


Weather, Meteorology, and Climate—The Plant Connection: New scientific instruments, including a meteorological (MET) station; access to plant population data collected by Garden scientists; and the new GIS lab at the Plant Science Center will inform a weather, climate, and climate-change modeling course allowing teens explore the interaction between weather, climate, and ecosystem function.


The Chemistry and Physics of Cooking: Participants will explore the math and science of cooking and the processes that transmute carbohydrates, starch, and protein into nutritional failure or success. The teaching kitchen has been funded by the ITW Foundation.


Communicating Science to the Public—The Young Have It: The atrium will provide a wonderful venue for displays that engage the visiting public with the Garden's mission and research. The atrium can present the work of advanced high-school students working in a new summer program focused on science communications. The Astellas Atrium has been funded by Astellas USA Foundation.
 
Education Center Garden
The south end of the Center will open onto a shaded terrace that can accommodate classes or simply offer comfortable seating and viewing onto a new lawn and garden. Based on a concept vision by renowned landscape architect Mikyoung Kim, the Education Center Garden will be a vibrant central place for children to explore. Features include a series of multisensory gardens and a shallow stream. A great lawn of wave-like knolls will slope into an amphitheater, and wide, tree-shaded paths will include special areas for hiding, learning, and gathering. The garden will be designed and built by Jacobs/Ryan Associates.