summer camp
Camp CBG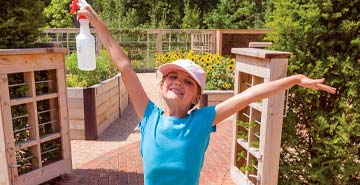 The Chicago Botanic Gardenís signature day camp provides exciting, fun, and enriching outdoor learning experiences for your child, with programs for children ages 2 to 15. Science, nature, art, ecology, and cooking camps draw kids from Chicago and the North Shore suburbs, including surrounding areas of Glencoe, Highland Park, Northbrook, and Winnetka.
Where Science, Nature & Fun Meet!

Camp CBG offers morning and afternoon camps, supervised lunch, and full-day camps to give parents flexible scheduling options from June 17 to August 16, 2013. Spend a week or the summer at the Chicago Botanic Garden!

Our instructors are highly qualified, and many have been teaching with Camp CBG for more than five years. All staff members participate in annual training, are first-aid certified, and love teaching.
Instructor Spotlight - click here to read about Jim O'Malley, a veteran Camp CBG instructor.
These fun outdoor camps offer kids in Chicago's North Shore suburbs a wide variety of activities that take advantage of the facilities and expertise at the Chicago Botanic Garden.
Become a Garden Plus member today and enjoy a special discount.
Rave reviews from parents of campers
"My child loved bringing home plants to plant in our garden."
"Thank you so much to all your staff. They were all so terrific! My son loved his entire camp experience and can't wait to return next year."
"My daughter has commented that Camp CBG is her favorite camp so far."
"My campers loved camp and would come back for more. The experience has been great! They have learned tons and have enjoyed themselves."