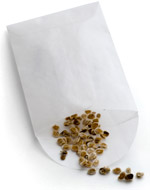 Open January 23 through March 31, 2017
Our Seed Library in the Lenhardt Library is a place where you may "borrow" seeds to plant, to grow, and to enjoy!
At harvest time, save seeds for yourself, and return some to the Seed Library for others to "borrow" next season, learn more.
Although the Seed Library is behind the scenes for now, feel free to return saved seeds to the Library's circulation desk and we'll store them for next season.
By participating in the Seed Library, you become part of the growing community of seed-savers and a keeper of shared knowledge for the next generation of gardeners.