"Epic Tomatoes for the Midwest"
Craig LeHoullier
Sunday, February 28, 2016
2 – 3 p.m.

This lecture is sold out.
Alsdorf Auditorium
Free lecture; preregistration required
Parking fees apply
Tomato expert and author of the recently published Epic Tomatoes: How to Select & Grow the Best Varieties of All Time, Craig LeHoullier shares his top growing recommendations and tips for varieties for midwestern gardeners. Epic Tomatoes is the culmination of decades of LeHoullier's passion for collecting, researching, and growing 2,000 varieties of tomatoes. After joining the Seed Savers Exchange in 1986, he focused on open-pollinated (non-hybrid) varieties in a wide range of colors, sizes, and flavors. He is responsible for naming, developing, and introducing many varieties—including the well-known cherokee purple—and recently has been involved in creating new dwarf varieties. Don't miss this opportunity to meet Craig LeHoullier and to talk tomatoes! Copies of Epic Tomatoes and his newest book, Growing Vegetables in Straw Bales, will be available for purchase and signing.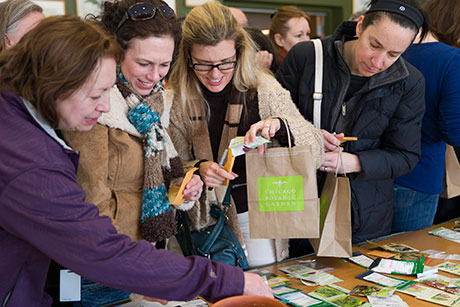 Seed Swap
3 – 5 p.m.
Burnstein Hall
Parking fees apply for nonmembers
Gardeners are invited to bring saved or leftover vegetable, flower, and herb seed packets to share and swap with other gardeners. Beginners are welcome to participate even without seeds. Experienced seed savers will enjoy swapping with others at the Connoisseur's Corner. Talk to experts about starting seeds indoors, seed saving, recommended varieties for Chicago gardens, and all about tomatoes—with a special focus on dwarf tomato varieties. Check our new Seed Library at the Lenhardt Library.