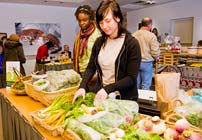 Saturday and Sunday, December 10 & 11, 2016
10 a.m. – 4 p.m.
Burnstein Hall

Do you need some last-minute holiday gifts? Visit the Holiday Market, where vendors will offer products such as locally made jams, soaps, spice blends, and more.
Visit our outdoor Farmers' Market in summer and fall.
Vendors
Bushel and Pecks
Burton's Maplewood Farm
Gretta's Goats
Holcomb Hollow
Jason Scott Specialty Foods
Joe's Blues
Katherine Anne Confections
My Decadent Sweet Tooth
Savory Accents
Spark of the Heart
Tabal Chocolate
Xanadu Apiary
Wind Ridge Herb Farm
Windy City Harvest