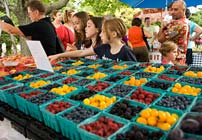 First and third Sundays of the month
May 4 – October 19, 2014
9 a.m. – 3 p.m.
Esplanade
Gather seasonal produce, flowers, herbs, and other local, sustainable products at this bimonthly Garden event that is held rain or shine. Talk with vendors and sample fresh fare. Visitors may purchase a special market bag from the Garden Shop to carry their purchases home.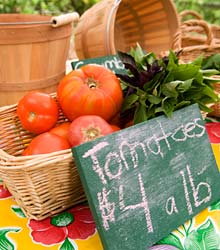 Farmers' Market Vendors
Chicago Botanic Garden Green Youth Farm, Windy City Harvest, Chicago Botanic Garden—organically grown, Chicago-area-produced fresh vegetables, herbs, and honey
Faith's Farm, Bonfield, IL—free-range drug-free beef, pork, turkey, chicken, and brown eggs
H&H Flowers - Sunkissed Organics, La Porte, IN—organically grown heirloom vegetables, perennial plants, and field-grown chrysanthemums

Jaci's Cookies, Woodstock, IL—locally produced cookies made with locally sourced ingredients, with vegan and gluten-free options available
Seedling Fruits, South Haven, MI—locally grown fruit: apples, peaches, cherries, plums, nectarines, apricots, berries, melons, and rhubarb; and preserves and farmstead apple cider
Sharpening by Dave, Skokie, IL—sharpens items such as knives, bread knives, scissors, pruning shears, lawn mower blades, and more
Sweet Earth Organic Farm, Wauzeka, WI—organically grown fruits and vegetables, specializing in heirloom varieties
Tempel Farms Organics, Old Mill Creek, IL—organically grown, high-quality vegetables, fruit, and cut flowers

Chocolate Twist, Riverside, IL—uniquely flavored, delicious artisan caramels and truffles
Made from Mud, Mokena, IL—fine, handmade pottery ranging from coffee cups to beautiful vases and household décor inspired by a love for garden flowers and art history
W&M Land Corp, Woodstock, IL—organic vegetable and flower starts, larger potted plants and produce
Wild Flour Bakery, Milwaukee, WI—handmade, local, European-style artisan breads made from natural ingredients
Xanadu Forests Apiary, Lake Villa, IL—extracted, creamed, and comb honey; 100 percent beeswax candles, soaps, lip balms, ornaments, and honey dippers
Mill Road Farms, Sheffield, IL - local farm (owned by executive chef Dan Marquis of Quay restaurant in Chicago), where a wide variety of produce is grown using sustainable and organic practices. 
The Chicago Botanic Garden is a producer-only market.
E-mail for more information about the Farmers' Market or about becoming a vendor.
The Farmers' Market is held rain or shine. Admission is free; standard parking fees apply.