Plant Information
Have a question? Contact Plant Information Service.
Use the search box below to search plant information. Or choose a month from the drop down menu to view monthly garden checklists.
Smart Gardener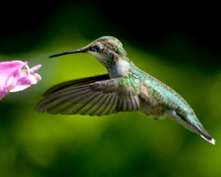 As we settle into autumn, many winged wonders—butterflies, dragonflies, and countless songbirds—pass through our gardens during the great fall migration. Among these fascinating and colorful creatures is the ruby-throated hummingbird, which travels through the Chicago area in great numbers during September and October.