Plant Information
Use the search box below to search plant information. Or choose a month from the drop down menu to view monthly garden checklists.
Smart Gardener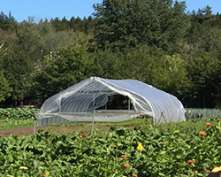 As the weather cools, smart kitchen gardeners search for ways to stretch the growing season, hoping for a few more salads…an extra harvest of kale…or (gasp!) truly fresh veggies on the table at Thanksgiving.
The idea of season extension—gaining a month longer to grow crops at either end of our rather short USDA Zone 5 season—is worthy of a home experiment.