What's in Bloom
What's in Bloom at the Chicago Botanic Garden
May 1, 2013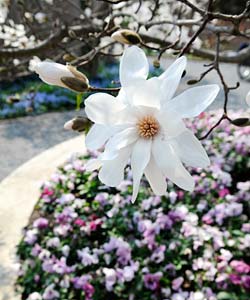 A few gorgeous sunny spring days have made all the difference in the gardens. Trees are leafing out, with delicate chartreuse willow branches dangling over the shorelines. Magnificent magnolias, fluffy pink cherry trees, cheery yellow forsythias and Cornelian cherry dogwoods form the backdrop for over one million flowering bulbs.
Along the Edens expressway look for narcissus varieties 'Dutch Master', 'Marieke' and 'Spellbinder'. On the little island west of the parking lots are the narcissus varieties 'Ice Follies' and 'Carlton'.
The tulips in the Crescent Garden are now blooming and crabapples around the Great Basin are starting to show color in the buds. Look for bright patches of eye-catching annuals such as pansies, pot marigolds and Persian buttercups. McDonald Woods is carpeted with delicate wildflowers including trout lilies, trilliums and bloodroot.
Come and see spring sprouting at the Chicago Botanic Garden!