What's in Bloom
What's in Bloom at the Chicago Botanic Garden
December 5, 2013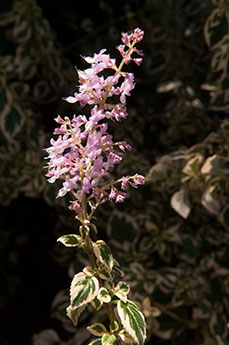 When grown in a frost-free, sunny conservatory, Candy Kisses hemizygia (Hemizygia 'Candy Kisses') blooms profusely in showy, pinkish-purple spikes of flowers from November through April. Small cream-and-green leaves provide ornamental interest throughout the year on this non-hardy African native.
A member of the mint family (Lamiaceae), this plant has flowers that are attractive to butterflies, bees, and hummingbirds, but deer are repelled by the foliage.
Take a magical trip to a winter wonderland of twinkling lights and holiday beauty at the Chicago Botanic Garden.
At Wonderland Express, see model trains travel past floral displays that include poinsettias, kalanchoe, and all kinds of miniature evergreens. The greenhouses have been dressed up with poinsettias, kalanchoe, star of Bethlehem, amaryllis and topiary trees made up of bromeliads. Other colorful plants in the greenhouses include royal paintbush, Hong Kong orchid tree, Candy Kisses hemizygia and Dancing Snow hydrangea.
In the outdoor gardens, colorful fruits offer interest to visitors and hungry birds. Visit the gardens on the Main Island to see red-fruited crabapples, cotoneaster, lavender beautyberry and orange-fruited hawthorns.
Come see what colorful surprises you can discover as you take a stroll through the Chicago Botanic Garden.