What's in Bloom
What's in Bloom at the Chicago Botanic Garden
October 20, 2014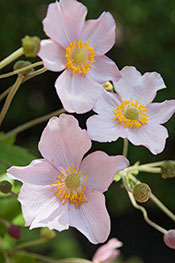 Lovely semi-double richly colored rose-pink flowers wave gracefully in the slightest breeze on Queen Charlotte anemone (Anemone x hybrida 'Queen Charlotte'). The tips of each of the 10 to 15 petals are notched— an excellent diagnostic characteristic when trying to differentiate the cultivars. The flowers are produced well above the dark green compound leaves that effectively smother out most weeds. This plant can be grown in full sun, but prefers partial shade and soils that are well drained but constantly moist throughout the growing season. The leaves and foliage are resistant to deer and rabbits.
There's no doubt that autumn is here, with cooler temperatures, brilliant foliage and displays of chrysanthemums throughout the Garden. We are now enjoying full fall color, with maples, birches, sumacs, viburnums and dogwoods ablaze with color. Great sights to enjoy include the view from the east road looking towards the Japanese Garden and Evening Island; fruit-laden crabapples along the Great Basin; the reflections of sugar maples in the water; and the towering canopy of trees in McDonald Woods. Prominent perennials in bloom include autumn crocus, monkshood, Tatarian asters, Ozawa onions and Japanese anemones. Panicle hydrangeas sport dark pink dried flowerheads and leaves of oakleaf hydrangea re turning deep red.
It's time for a cool walk—with a lot to see—at the Chicago Botanic Garden.