What's in Bloom
What's in Bloom at the Chicago Botanic Garden
May 22, 2013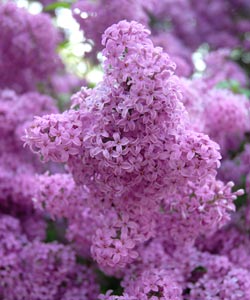 There is nothing so lovely as a day in May at the Chicago Botanic Garden. Beautiful redbuds, lilacs, viburnums, and azaleas are now in full bloom and can be found in almost every garden.
Amazing arrays of annuals can be seen in the Circle Garden, Enabling Garden and the raised beds of the Sensory Garden, where you will also see cascading wisterias.
McDonald Woods and the Native Plant Garden are carpeted with delicate native wildflowers, including trilliums, dogtooth violet, buttercups and false rue anemone.
Cross the bridge to the Fruit and Vegetable Garden to see spring vegetables arranged in colorful patterns and many flowering fruit trees.
If you get chilly, visit the Greenhouses to see the jade vine and Echinopsis cactus.
Enjoy a spring walk at the Chicago Botanic Garden.