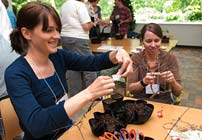 Saturday, June 29 at the Chicago Botanic Garden
8 a.m. – 4 p.m.
Fee: $95
Lunch (optional): $18
School Gardens present many challenges and opportunities. From a practical perspective, starting and maintaining a school garden requires a coordinated effort among school and sometimes community members. School gardeners face many decisions and challenges planning and maintaining the garden. Once you have the garden, it can become a living laboratory for science investigations and other curricular connections.