Better Than Googling
Seed Sourcing through the Lenhardt Library
It's January, and it's time to order seeds for your garden. You type seeds into your search engine—only to get 257,000,000 results. Next you type in seed catalog. Hmm, down to 19,100,000. You need an editor. That's where we come in.
It's a seed swap! Join us for a day built around seeds: our second annual Seed Swap is Sunday, February 24, 2013.
2 p.m. Free Lecture
Presented by Seed Savers Exchange staff, "Seed Letters" tells the stories behind your favorite heirloom varieties. Click here to register in advance.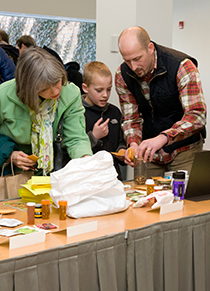 3–5 p.m. Seed Swap
Swap your recently saved or extra seeds, talk gardens with the folks around you, and ask our experts questions about all things seed!
An Exclusive Database
Found only at our Lenhardt Library, the Nursery Catalog Database—and its companion, a physical file of catalogs—is a gardener's dream: an already-edited and constantly updated list of hundreds (currently 784) of seed and seedling resources from companies all across America. The database is organized by title, and can be searched and parsed (and thus personalized to your needs) in helpful ways.
Looking for heirloom apple varieties? Search apple and you'll pull up all resources that have apples as a primary or secondary subject. That could lead you to both the catalog and website of Urban Homestead in Virginia, which specializes in heirloom apple trees.
Looking for shade-tolerant plants? Search shade and you may discover that Munchkin Nursery and Garden, located nearby in Depauw, Indiana, specializes in shade perennials.
Have an unusual interest? So do the mushroom folks at Garden City Fungi (gardencityfungi.com), the banana experts at Going Bananas (going-bananas.com), and the Kitazawa Seed Company (kitazawaseed.com), which has been selling Asian vegetable seeds since 1917. The database tracks website names for each company, too.
Developed by staff at the Garden, the database is accessible only through the Lenhardt Library's computers—so visit the library and one of our helpful librarians will work with you to find what you need. Or you can call the library and "talk database" with a librarian.
How many seed catalogs do you get in the mail? We get hundreds. These four drawers may hold the key to your garden next year.
Peruse the Pages
Edit your choices through the database, then settle in at the library with the catalogs themselves. The collection fills a four-drawer filing cabinet adjacent to the library's public computers. Inside are current-year or last-received print catalogs, brochures, and mailers from companies large and small. Although catalogs cannot be checked out from the library, you are invited to pull them from the file and look through them at your leisure. Take notes, make copies, snap photos with your smartphone, or bookmark websites on your laptop. Afterwards, library staff will even refile the catalogs for you.
Five to Find
Our horticulturists and landscape designers use both the database and the catalog file to find interesting and unusual seeds and transplants. Wondering whether we have favorites? Here are five companies that are tried-and-true resources out in the Regenstein Fruit & Vegetable Garden:
A cup of coffee (yes, you can bring a covered cup to the library!)…a comfortable library armchair (they really are comfortable)…a stack of seed and nursery catalogs to leaf through…it's a smart way for a gardener to spend a January day.

Karen Zaworski is a garden writer and photographer who lives and gardens in Oak Park, Illinois.