A Wonderland Express Walk
Click here for Wonderland Express tickets and more information.
The Garden Celebrates Chicago
Chicago Botanic Garden families know that to truly celebrate the holidays, you must pay at least one visit to Wonderland Express, the Garden's tribute to holiday magic, the joys of winter, and family fun. This unique blend of artistic wizardry, fanciful design, magnificent horticulture, and of course, the whizzing, whistling miniature trains, continues to delight children, parents, and grandparents, providing all with a superb pride-of-place Chicago experience. Whether your first loves are the lights and flowers, the trains, the Chicago landmarks, or the celebrations with friends and family, make sure you get on board for a fabulous journey!
The Light Show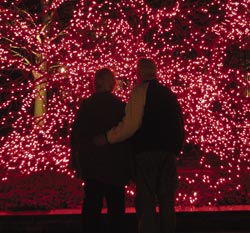 Anticipation builds quickly at the Lake Cook Road entrance as soon as you catch sight of the evergreens twinkling with white lights. More than 750,000 light-emitting diode (LED) bulbs have been used to illuminate the large deciduous trees, the 40-foot-tall concolor fir tree on the Esplanade is surounded with trees wrapped in white lights. The small, energy-efficient LED bulbs burn brightly and greatly reduce energy consumption.
The Trees Light Your Way
Walking through the Heritage Garden toward Wonderland Express, sparkling yew hedges and seven red-and-white-lit Cornelian cherry dogwood trees that anchor this garden will light your way. The water that once filled the pools and cascaded over the central fountain has been drained for winter, and the pools are now brimming with festive green junipers. In the middle, on the raised physic bed, is a lit concolor fir tree. Continue along the path to Regenstein Center, where glowing Christmas trees in wooden box containers light up the porticos and Bonsai Courtyards, while the prized bonsai winter in climate-controlled quarters at the south end of the Garden.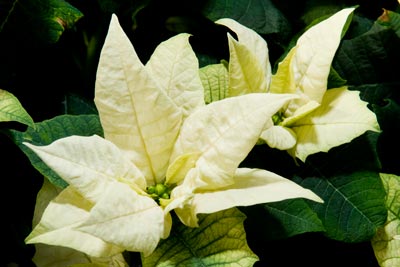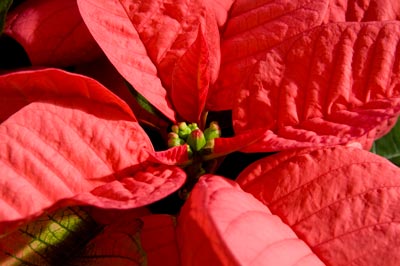 Greenhouses All Aglow
The Greenhouse Galleries are lined with colorful poinsettias and oversized wreaths designed by Garden staff — perfect inspiration for your own holiday décor. Be sure to step inside the three Garden Greenhouses that offer warmth, fragrance, and seasonal surprises!
Eight slow-growing spindle palms, wrapped in white lights, line the entrance to the Tropical Greenhouse, which is enhanced with hanging sprays of white moth orchids, red lion amaryllis, and a special "tree" constructed of lime-green-and-red bromeliads.
The Semitropical Greenhouse blooms with red, ivory, light and dark coral, and marbled poinsettias. Large displays of red and white poinsettias adorn the checkerboard section of this Greenhouse. Children will especially enjoy this space as they search for their favorite topiary animals hiding amongst the greenery. Suspended from the ceiling are brilliant red ornament globes fashioned entirely from poinsettia plants.
Wonderland Express — The Big Show
As you enter the Wonderland Express exhibition, you will pass through a gallery of Christmas trees decorated by local designers, and a gingerbread village complete with a holiday train. Wonderland Express reveals itself gradually as an entire indoor landscape of hundreds of live evergreens, flowering plants, ground covers, perennials, ferns, and more comes into view. This multitiered landscape is the setting for the garden-scale model trains that speed along tracks, zoom across bridges and under trestles, and disappear around the bends. Central to the spectacle is a cascading waterfall that plummets to a pool below and then flows into a river that runs through rocky terrain. The scent of cedar wafts throughout, as soft snow lightly dusts the landscape, and the sound of carols echoes from scene to scene.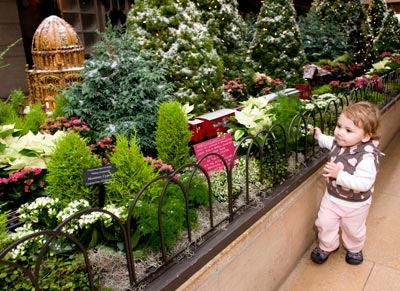 Chicago Landmarks — Can You Find All 80 of Them?
Where to look first? Children will follow their favorite trains, while adults will surely marvel at the handcrafted, exquisitely detailed replicas of more than 80 of Chicago's most famous landmarks sited throughout this landscape. The buildings are constructed of all-natural materials collected in the wild: gourds, pine cones, bark and wooden logs, acorns, eucalyptus pods, grains and grasses, and so much more. There's Frank Gehry's band shell and Anish Kapoor's Cloud Gate ("Bean") from Millennium Park. Look for the old Marshall Field's clock, St. Patrick's Church, the Shedd Aquarium, Soldier Field, Navy Pier, the Museum of Science and Industry, Chicago Stadium, and the Newberry Library. Not sure of your architecture? Helpful signs will clue you in. Don't miss the Lincoln Park Zoo Seal House and the Garden's new Daniel F. and Ada L. Rice Plant Conservation Science Center. New to the exhibition this year is the Evanston Hospital building.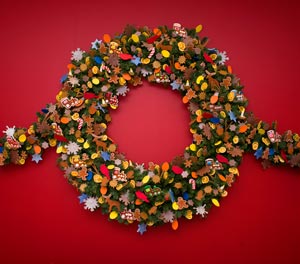 Now the Plants!
Gardeners in your group will be awed by the plants — their variety, color, texture, and how beautifully they replicate the landscape-at-large. Many of them are true dwarf conifers, while others "suggest" or mimic an allée, orchard, grove, or mountain forest. The tree forms are completely realistic and include all the natural shapes trees assume: weeping, upright, pyramidal, creeping, mounding, and more. To enhance the exhibition, holiday plants and full-size, lit Christmas trees are integrated beautifully into the scenes, while snow falls silently from above.
All Aboard!
Continue to the adjoining Krehbiel Gallery, where you can envision yourself in a simulated train station of yore, with doorways festooned with wreaths made of pinecones, holly, magnolia, and evergreen. A colorful landscaped garden, in shades of green, pink, and white, with one more model train, runs the length of this space, and children can get a close-up and personal view.
Joy to All!