Fall Bulb Festival
Celebrate the end of one growing season and prepare for the next.
The Fall Bulb Festival offers fun for the whole family!
Friday, October 4
noon to 4 p.m.
Preview bulb shopping for members
10 a.m. to noon
Saturday & Sunday
October 5 & 6
10 a.m. to 4 p.m.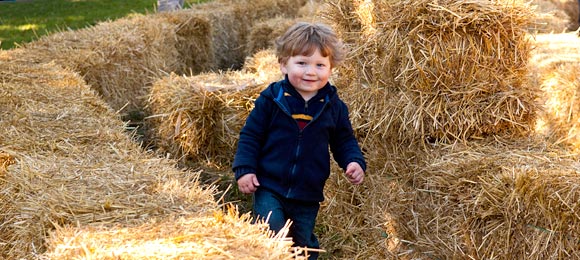 Market Vendors
Century Farmhouse
Chicago Botanic Garden Green Youth Farm and
Windy City Harvest (Saturday and Sunday)
Completely Nuts
Faith's Farm
Famous Kal's
FarmedHere (Sunday only)
Futter's Nut Butters (Sunday only)
Garden Café
LocalFolks Food
Made From Mud
McCluskey Brothers (Sunday only)
Royal Oak Farm (Friday and Saturday)
Sweet Slap'n Salsa
W&M Land Corp
Wild Flour Bakery
Wild Tree
Wind Ridge Herb Farm
Xanadu
Festival Highlights
On the Esplanade, visitors can sip cider, wine, and beer, while listening to live music and shopping among more than 20 of the Garden's favorite local vendors. Have a snack and enjoy the best of the fall harvest. Taste mouth-watering salsas, herbs, and vegetables. Bring home gourmet foods including baked goods, cheeses, and honey. Shop for pumpkins, pottery, soaps, and more. Children can navigate the straw bale maze, get moving with a fun outdoor fitness activity, enjoy the amazing gourd display, and drop in for such family activities as leaf rubbing, a leaf hunt, and mini-scarecrows.
bulb sale
Just a few steps away in the Regenstein Center, visitors will find the perfect bulbs for their gardens at the 13th annual bulb sale, featuring more than 200 varieties of daffodils, tulips, alliums, and other specialty bulbs. The bulbs are from Holland, Scotland, and the United States, brought to you just in time for fall planting. The annual bulb sale is presented by the Woman's Board of the Chicago Horticultural Society. The Woman's Board is in its first year of "Growing the Future," a $1 million pledge to the Chicago Botanic Garden. Proceeds for 2012 will support the Garden's Green Youth Farm and Windy City Harvest community gardening programs.
Shoppers can enjoy the opportunity to prepurchase a special selection of bulbs online through September 27.
Garden horticulturists and staff will offer practical tips and demonstrations on bulb selection and planting.
Members-only Hours for Bulb Sale
On Friday, from 10 a.m. to noon, Garden members have the privilege of early shopping hours for bulbs, just before the festival begins.


Admission is free. Parking fees apply. Please park in the main parking lots and follow the signs directing you to the festival.