January 18, 2021
February 15, 2021
9 a.m. – noon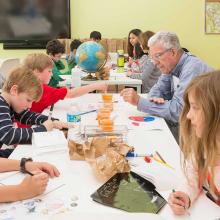 Your child might have a day off school, but it is a day "on" at the Garden! Children in grades K to 4 will participate in fun learning activities that connect nature to a range of content, including plants, weather, art, cuisine, and conservation. This camp will be held outside; please dress for the weather.
Grades K – 4
Classroom 8, Learning Center
January 18, 2021: Snow Art
February 15, 2021: Wild Winter
EMERGENCY/HEALTH HISTORY
Once your registration is complete, you will receive an email from register@campdoc.com.
Attire
Dress for the weather! Wear clothes that are comfortable for outdoor and indoor activities and hands-on, messy fun.
What to Bring to camp
Water bottle and a nut-free snack daily
Nut-free lunch that does not require refrigeration
Backpack in which to carry projects home
Refund and Cancellation Policy