Monday through Thursday, September 3, 2019 – May 21, 2020
12:45 – 3:45 p.m.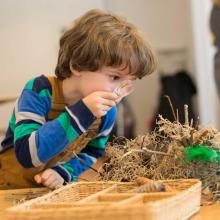 $100 deposit per child (Tuition is billed in quarterly installments, starting in June 2019)
The Garden's Nature Preschool will delight and engage your child in an adventure of discovery about the natural world and prepare them for a future of lifelong learning. Tuition of $7,125 per child is due in quarterly installments beginning in June. Garden Plus members pay $5,600. Financial aid available.
Financial Aid Application | Refund and Cancellation Policy
All children must be fully toilet trained before attending classes.
Age 3 by September 1, 2019
Classroom 11, Learning Campus