Friday, June 15, 2018, 5:30 – 8:30 p.m.
Friday, July 27, 2018, 5:30 – 8:30 p.m.
Friday, August 17, 2018, 5:30 – 8:30 p.m.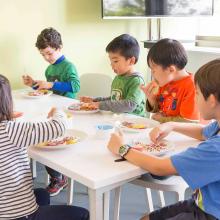 $50/$40 (includes materials fee) per class
Drop off your kids at the ITW Kitchen, where they will prepare a meal together, decorate a pot to start their own kitchen garden, and explore the Grunsfeld Children's Growing Garden at night. We'll have them fed and ready for your bedtime routine when you pick them up at the end of your date night. Please note: We will make every attempt to accommodate participants with food allergies by substituting alternative ingredients as needed, however, our kitchen is not certified gluten-free and it is not kosher. Kindly consider your child's needs before enrolling in any class involving cooking and food.
Ages 5 & up
ITW Kitchen, Learning Center
June 15: Lasagna Rollups
July 27: Eat Dessert First
August 17: Campfire Cooking