June 10 – 14, 2019, 9:30 a.m. – 3 p.m.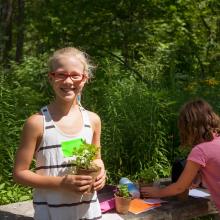 $68/$85 per child per day
Grades 5 – 8
Join our new camp as we kick off summer. Middle school-aged students will dig deeper as they investigate different areas of the Garden including the Dixon Prairie, Kleinman Family Cove, and Greenhouses. Each day, campers will prepare their own healthy snack, dabble in art, and conduct a science experiment. Sign up for one day or the whole week.
Learning Campus