August 13 – 17, 2018
Monday – Friday
9:30 a.m. – 3 p.m.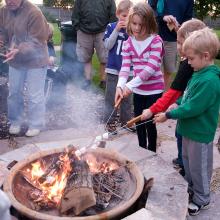 $440/$352 per child per week
Grades 1 – 4
Our last week of summer will be a blast! Campers will work in age-appropriate groups in summer camp activities with a botanical twist: capture the flag, scavenger hunt, dance party, s'mores and campfire, along with new art, science, and nature activities. A special guest will bring some animals for us to investigate. This camp is sure to be a new favorite of our Camp CBG families.
Learning Campus