March 26 – 30, 2018, 9:30 a.m. – 3 p.m.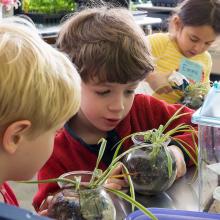 Children in grades K – 5 will participate in high-quality learning activities with experienced teachers who use inquiry-based, hands-on activities. Programming connects nature to a range of themes including art, cuisine, and conservation. This spring, children will dissect and plant seeds, explore fragrant herbs and flowers, search for birds and early spring plants on nature hikes, take a trolley ride around the Garden, create take-home science-themed projects, and much more!
Grades K – 5
Classroom 8, Learning Center
March 26, 2018:  Signs of Spring
March 27, 2018:  Let's Go Camping!
March 28, 2018:  Seeds a Plenty, Art & Cooking
March 29, 2018:  A Visit to the Woods
March 30, 2018:  Flights of fancy, Birds & Insects
EMERGENCY/HEALTH HISTORY
Camp CBG is partnering with CampDoc.com in 2018. Once your registration is complete, you will receive an email from register@campdoc.com.
Attire
Dress for the weather! Wear clothes that are comfortable for outdoor and indoor activities and hands-on, messy fun.
What to Bring to camp
Water bottle and a nut-free snack daily
Nut-free lunch that does not require refrigeration
Backpack in which to carry projects home
Refund and Cancellation Policy