November 24 – December 22, 2017

10 a.m. – 5 p.m.


December 23 – January 7, 2018


10 a.m. – 7 p.m.

EARLY CLOSING DAYS:
December 24: closes at 3 p.m. (last ticket sold at 2 p.m.)*
December 25: closed all day
*Early closings apply to the Wonderland Express exhibition only. Click here for Garden grounds hours.

Special Offer for ComEd Customers
Buy one ticket, get one free! Click here for coupon.

TripAdvisor.com: 

"Great family outing."
Chicago magazine: "The warmest kind of holiday fun."
Examiner.com: "A magical adventure!"
WMAQ-TV: "Fun for the whole family."
It's a light show! It's a greenhouse extravaganza! It's a railroad garden! It's the city of Chicago in miniature! It's snowing inside!

'Tis the season for family fun! Join us at the Garden for Wonderland Express, an annual holiday extravaganza featuring magnificent model trains, magical and glittering indoor snow, and meticulously crafted Chicago landmarks in miniature. Plus, see intricate ice carvings and hear beautiful music from carolers.
Bring the smartphones and video cameras, as our holiday exhibition delights children and parents, friends and families. Kids, look for Thomas the Tank Engine!
Wonderland Highlights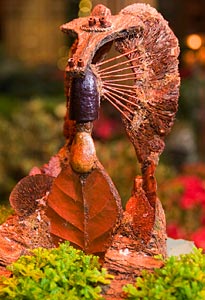 caroling 
November 25 – 27; 10 a.m. – noon. It wouldn't be the holidays without music. Indoor caroling makes Wonderland Express sing.
Movie Weekend
December 3: Frosty's Winter Wonderland and How the Grinch Stole Christmas
December 4: Prep & Landing: Naughty vs. Nice and Jack Frost
Showtimes are every hour from 10:30 a.m. to 4:30 p.m., alternating movies. Free to all ticketed guests, enjoy holiday classics in Alsdorf Auditorium.
holiday market
December 10 & 11; Vendors offer products such as seasonal produce, herbs, wreaths, handmade pottery, honey, and more.
ICE SCULPTING
December 11; 11 a.m. and 2 p.m. Fantastic figures emerge as ice sculptors set up shop outdoors, with blocks of ice, chainsaws, and carving tools. Watch their progress with two carving sessions, snow or shine. Bundle up the kids—they love watching the snow fly in the courtyards of the Regenstein Center.
HANDMADE WREATHS FOR SALE
Find a one-of-a-kind creation for your front door. Holiday wreaths handmade by Chicago Botanic Garden staff members are on display—and for sale—in the Greenhouse Gallery.