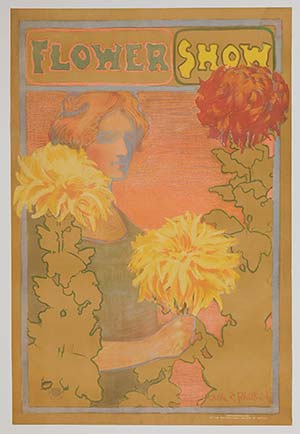 The rare Art Nouveau poster by Allen Erskine Philbrick for the Chicago Horticultural Society's Annual Flower Show in November 1900 was presented to the Chicago Botanic Garden to celebrate its 40th anniversary. The framed original is on display in the Lenhardt Library.

The vintage lithograph poster has been replicated by internationally renowned Joel Oppenheimer Gallery, Inc. It measures 35.5" X 24" and costs $250. This is a limited numbered edition reproduction. Contact Stephanie Lindemann, (847) 835-8284 or SLindemann@chicagobotanic.org to purchase a numbered edition while supplies last.

The artist was born in Utica, New York, in 1879, and lived in Winnetka, Illinois. Philbrick began his art studies at the Art Institute of Chicago, then went to Paris to study at the Academie Julian and Academie Colarossi, and traveled extensively throughout Europe. Philbrick exhibited at the Art Institute of Chicago, the National Academy of Design, and the Paris Salon. He died in 1964 in Alexandria, Virginia.
Proceeds support conservation of the Lenhardt Library's Rare Book Collection, housed in the June Price Reedy Rare Book Room.