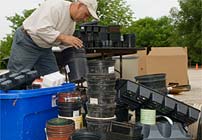 Saturday, June 6, 2015
10 a.m. to 4 p.m.
Parking lot 4
Help save reusable materials from landfills. Bring your plastic garden pots, cellpacks, trays, and plant labels to the Chicago Botanic Garden for recycling. Recyclables accepted are labeled with numbers 2, 4, 5, and 6. Staff and volunteers will be on-site to accept and sort recyclables in parking lot 4. This program is available to Garden members and visitors as part of World Environment Day programming.
Recycle Electronics
Don't miss this opportunity to recycle a variety of consumer electronics, from 10 a.m. to 4 p.m., in parking lot 4.
Standard parking fees apply. Garden members receive free parking.