Saturday, June 6, 2015
Support your local planet: a day to take action
Conservation is a big term that covers a lot of ground. That's why we set aside a full day for kids and adults to explore conservation and sustainability on World Environment Day.
It's a day to learn about topics large and small, from climate change to the importance of butterflies and pollinators.
The Daniel F. and Ada L. Rice Plant Conservation Science Center will be buzzing with science activities from the rooftop to the rain garden!
On the Esplanade and at the Regenstein Fruit & Vegetable Garden, you can ask our horticulturists, staff, and volunteer experts about our gardens—and about what's happening in yours.
Come for the day, have lunch at the Garden View Café, and then put what you've learned into practice at home!
The Day's Key Events
Learn at the Labs
Meet the scientists and check out plant science in action at the Plant Science Center, 11 a.m. to 4 p.m. Learn more about prairie management and Chicago's native bees, and get a butterfly weed plant to grow in your garden to help support monarch butterflies.
Learn from Our Horticulturists
Meet the "horts," who will cover topics including organic vegetable gardening, water-wise gardening, butterfly gardening, ecofriendly lawn care, successful composting, and many more, from 11 a.m. to 4 p.m.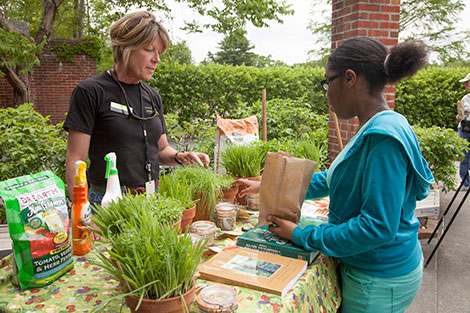 Learn at the Fruit & Vegetable Garden

Learn more about raising bees from beekeeper Ann Stevens, and take home an heirloom tomato seedling!
Learn from the Chefs
Chef Cleetus Friedman of Fountainhead/The Bar on Buena cooks with seasonal and locally grown produce at the Garden Chef Series, at 1:30 and 2:30 p.m. at the Fruit & Vegetable Garden's open-air amphitheater.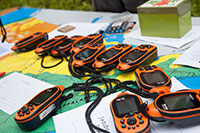 Learn at Play
Family drop-in activities are ongoing, from 11 a.m. to 4 p.m. at the Esplanade, the Grunsfeld Children's Growing Garden, and the Kleinman Family Cove.
Farmers' Market Stand
Our own Windy City Harvest sells fresh, organically grown produce harvested from the Fruit & Vegetable Garden and the farm's urban garden sites.
Recycle Electronics and Recycle Plastic
Don't miss this opportunity to recycle a variety of consumer electronics and all those plastic pots and flats from your garden, from 10 a.m. to 4 p.m., in parking lot 4.
The Garden trolley will be providing shuttle service from the Glencoe Metra station from 9:30 a.m. to 5:30 p.m. on Saturday, June 6.
World Environment Day is generously supported by