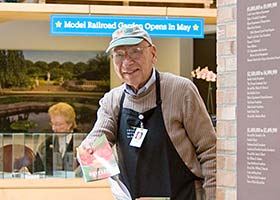 Visitor Services volunteers enjoy working with people to assist with directions, sales, information, and Garden services. Volunteers staff service locations one half-day each week or two weekend days per month.
Places volunteers may be needed:
Special events (festivals, exhibits, plant sales); near entrance as Garden greeters; at the Information Desk; at the Roadside Flower Sale.
Regenstein Center Desk
Commitment: 1/2 day per week Monday – Friday or two weekend days per month
Time of Year: Year-round
Preparation: Knowledge of the Garden; train on the job with others
Activity: Assist visitors with directions and general information
Visitor Center Greeters
Commitment: 1/2 day per week
Time of Year: Year-round
Preparation: Knowledge of the Garden; train on the job with others
Activity: Greet, direct, and inform visitors
Roadside Flower Sale
Commitment: Wednesday mornings; annual sale in October
Time of Year: June – October
Preparation: Train on the job with others
Activity: Collect, strip, hang, and dry plants; assist with flower-arranging classes; and set up annual sale