Peter Dogiakos: Bird Man of the Enabling Garden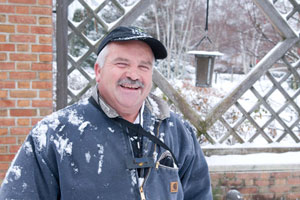 One cold winter day, Peter Dogiakos walked into the Buehler Enabling Garden on his weekly rounds to feed the birds. There he saw 20 or more adults and youngsters all looking through binoculars at his homemade feeders crafted from recycled water filters.
Dogiakos, a friendly and engaging Garden volunteer, soon learned these birders were ogling dozens of common redpolls, rare winter visitors to northern Illinois. The redpolls were gobbling the thistle seeds he puts into the feeders every Saturday morning. Dogiakos loves all the attention paid to the birds at the Garden. "Every time I'm in the garden, people and kids ask me what kind of bird is that and what kind of seeds they should buy," he said.
He also knows how inspiring the Chicago Botanic Garden can be. Fifteen years ago a stroke left him disabled. While at a rehabilitation center in Chicago, Dogiakos met Gene Rothert, the Garden's manager of horticultural therapy services.
"Gene talked about what they were doing at the Enabling Garden and I said, 'I can do that!'" recalled Dogiakos. "Back in the old country—I'm from Greece—I helped my mom in the garden. We had vegetables, flowers, everything," he said. Now, thanks to the Garden's programs, he can continue his love of tending to things growing in the earth. "Plus, I like to talk to people, especially about flowers," he said. "It's wonderful to see these people come to see what they can do."
Dogiakos volunteers four days a week at the Garden, not only planting and weeding and helping others at the Enabling Garden, but also filling in wherever he can, whether it's helping at Wonderland Express or keeping the birds satiated.
His favorite bird is the American goldfinch. "I like the goldfinches because of their song," he said. These small, lively birds sing cheery melodies, even in winter.  "And they change colors," he said. In the summer, male goldfinches don bright golden yellow plumages with contrasting black wings. In winter, they lose the color and then in late winter and early spring they start to get blotches of yellow.
Come to the Enabling Garden this winter to meet Dogiakos and watch the antics of small, cheery songbirds enjoying the bounty he provides.