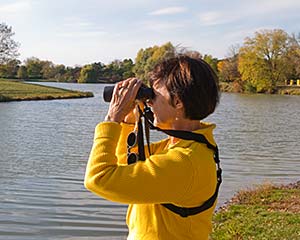 Volunteers in horticultural services help grow and maintain plants in the display gardens, natural areas, and Greenhouses. They inform visitors about the collection and assist with casual inquiries. Most volunteers work outside one weekday morning from April through November. With staff supervision, they prepare soil, plant, weed, prune, and deadhead. It's physically demanding work that continues through the fall unless the weather is extreme. Volunteer opportunities are added as new gardens are constructed and specific skills are requested to evaluate collections and monitor species.

Places volunteers may be needed:
The display gardens; conservation/rare plant monitoring areas; research/laboratory; collections and plant records; Greenhouses; plant production area; and herbarium.
Educational Greenhouse
Commitment: 1/2 day per week Monday – Friday morning
Time of Year: Year-round
Preparation: On-the-job training; ability to follow directions, stoop, kneel, bend, and stand
Activity: Maintain Regenstein Center plant collections
Plant Production
Commitment: 1/2 day per week Monday – Friday morning
Time of Year: Year-round
Preparation: Learn by doing, follow directions, work as part of a team
Activity: Sow seeds, transplant, monitor, stake, trim nursery plants, and wash pots
Collections and Plant Records
Time of Year: Year-round
Preparation: Knowledge of plants and the Garden helpful
Commitment: 1/2 day per week
Activity: Do research and data entry; map display gardens; maintain "What's in Bloom" cart
Research
Time of Year: Year-round
Preparation: Background in plant science or lab experience
Commitment: 1/2 day per week
Activity: Help with data entry and slide preparation
Herbarium
Time of Year: Year-round
Preparation: Background in plant science, botanical art, or computer literacy
Commitment: 1/2 day per week
Activity: Organize, label, and paste plant specimens and/or enter data in computer
Conservation Research
Time of Year: Year-round
Preparation: Background in plant science and/or computer literacy
Commitment: 1/2 day per week
Activity: Data entry, working with digital images, plant processing, and occasional outdoor work
Laboratory - Conservation Genetics
Time of Year: Year-round
Preparation: Lab experience
Commitment: Two mornings or afternoons per week for a minimum of six months
Activity: DNA fingerprinting of plants
Laboratory - Tissue Culture
Time of Year: Year-round
Preparation: Lab experience
Commitment: 1/2 day per week
Activity: Propagating plants using tissue culture
Rare Plant Monitoring
Time of Year: April – October
Preparation: Background in plant identification; ability to engage in moderate outdoor activity
Commitment: 40 - 60 hours during the growing season
Activity: Monitor rare plant populations in Chicago region and record data
Native Habitats: McDonald Woods, Dixon Prairie, Skokie River
Time of Year: Seasonal
Preparation: Physical endurance or specific plant knowledge
Commitment: Tuesday, Wednesday, or Thursday morning
Activity: Monitor native species; help with seasonal activities involving physical labor
North Gardens: Bulb, Aquatic, Native Plant; Rose, Heritage and Perennial Gardens
Time of Year: April – October
Preparation: Gardening experience helpful; ability to bend, stoop, kneel, and work outside. Spring visitor interpretation training and seasonal updates
Commitment: 1/2 day per week in the morning
Activity: Assist staff with Garden maintenance and visitor interpretation
South Gardens: Evaluation, Japanese, English Walled, Circle, and Sensory Gardens
Time of Year: April – October
Preparation: Gardening experience helpful; ability to bend, stoop, kneel, and work outside.
Commitment: 1/2 day per week in the morning
Activity: Assist staff with Garden maintenance