Visiting FAQs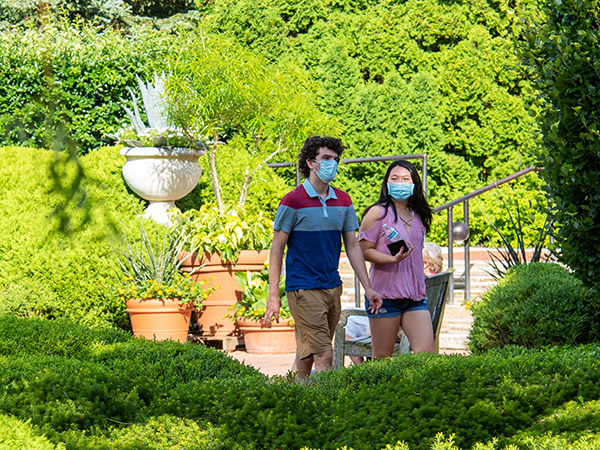 What safety measures are in place?
We are monitoring guidelines from the U.S. Centers for Disease Control and Prevention (CDC) and other public health officials on safety measures to help slow the spread of the coronavirus (COVID-19). We ask that everyone take the same preventive measures you take in any other public space.
Per CDC guidelines: Wear a mask indoors if you're not vaccinated for COVID-19.
How to preregister
You only need to register for your car, not the number of people who will be visiting. You will need to display your "timed ticket" on your phone or in your car window, even if you have a member decal in your car. Your ticket will be a PDF attachment on your reservation confirmation email. The receipt will be emailed from confirmation@chicagobotanic.org.
There is no entry without a reservation, and entries will not be available at the door. Parking fees apply.
Please note: The North Branch Trail extension is open during Garden hours; no preregistration required for bicyclists or walkers.
Member preregistration
Step-by-step video on how to reserve an entry time.
Members will need to either Log In or have their Membership ID number to register for a timed entry. Your membership ID is on your member card.
You may want to create an account; that way, your information will auto-fill each time you want to make a transaction. Forgot your password? Follow the prompts to get a new one.
You can sign up for multiple days and time slots.
When you have completed your reservation for one date, a purple box will appear at the top of the shopping cart page and prompt you to preregister for additional days.
You only need to sign up per car. The website will say "Parking timed entry" but parking is always free for members; this is just to reserve your timed entry.
President's Circle members do not need to preregister. Please display the placard you received in the mail for entry any time the Garden is open.
When you register for a certain date and time, you will receive a "timed ticket." Registration is per car, not the number of people who will be visiting. Please note that there is limited availability. After a session is filled, we will not release additional time slots. If you have questions about ticketing, please email customersupport@chicagobotanic.org and someone will contact you.
Will my visit be limited to the time frame on my ticket?
No, once you enter you may stay as long as you'd like. However, your visit must start within the time frame on your ticket (e.g., 8 to 9 a.m.). If you register for the final time slot, you must leave by closing time.
Can I get a refund for my parking? Can I change the date?
No parking tickets are non-refundable and cannot be exchanged for a different date. Tickets are valid rain or shine.
I have a membership parking decal on my windshield. Why do I need a timed reservation?
For the health and safety of our members, visitors, and staff, we are only allowing a certain number of cars, and thus people, on-site at any given time. Therefore, we need everyone, including members, to preregister for a timed entry. We need to monitor the number of people on-site to avoid overcrowding and jeopardizing the ability of people to safely social distance.
Can I make a reservation on-site?
No. All members and visitors must preregister for timed-entry tickets.
If I visit the Garden by bike or walking, will I still need to preregister in advance?
No. The preregistration applies to anyone visiting by car. Access via the North Branch Trail is open to anyone during the hours the Garden is open.
Can I use the American Horticultural Society reciprocal membership for entry to the Garden?
There are a few extra steps you will need to take to use your reciprocal membership. You will need to preregister and pay for a timed entry as a nonmember. On the day of your visit, please bring your receipt, proof of membership, and the credit card you used to preregister to the membership desk in the Visitor Center. We will issue you a refund. Questions? Email membershipcustomerservice@chicagobotanic.org.
Do members of the military have to preregister for a timed entry?
No. The Garden would like to thank our active duty U.S. military personnel and/or their families, reservists, and former POWs for their years of service with free parking. Please present your ID at the entry Gatehouse (one car/van vehicle per entry). No preregistration necessary.
What services are limited?
Restrooms and other facilities: Restrooms in the Visitor Center and Regenstein Center's Greenhouse Galleries are the only restrooms open. Portable toilets, including those that are ADA accessible, and hand-sanitizer stations will be available at several locations, including in front of the Visitor Center and just south of the Plant Science Center. Please bring your own water, as drinking fountains are not be available. It is not possible to ensure that benches and other common surface areas are sanitized at all times; please act accordingly.
Dining: The Garden View Café is open with limited service.
Shopping: The Garden Shop is open. Entry is via the Lakeside Deck. Capacity is limited.
Canceled events: Click here for more information.
Gardens: Some areas with tight, restricted entrances or spaces may be closed due to social distancing guidelines. These include Spider Island, some paths on Evening Island, areas of the Circle Garden, and paths within the Dwarf Conifer Garden and the Waterfall Garden.
Buildings: The Regenstein Center and Greenhouses, Regenstein Learning Center, and the Plant Science Center are closed until further notice. Restrooms in the Greenhouse Galleries are open.
Wheelchairs and scooters: Wheelchairs are available for loan. Electric scooters are not be available.
Picnic areas: The picnic area in Parking Lot 2 is open. It is not possible to ensure that picnic tables and other common surface areas are sanitized at all times; please act accordingly.
Trash: Do your part: Keep the Garden beautiful for all by carrying out your trash or placing it in receptacles.
I haven't received my membership materials. How long will it take to get them?
The membership team is operating remotely, so your materials may be delayed. We appreciate your patience. If you renewed, joined, or requested a new or replacement card, you will get your card as soon as possible.
Why did I receive a membership renewal notice when I already sent in my renewal?
Due to limited staffing because of COVID-19, renewal processing is taking longer than usual. This may cause your renewal and renewal notice to cross in the mail. If you have already renewed, please ignore the notice. We appreciate your patience as you wait for your materials.
What programs at the Garden are canceled, modified, or postponed?
Please visit our list; it will be continually updated, so check back often.
How do I reach the Garden?  
Please contact us at customersupport@chicagobotanic.org. We will get back to you as soon as possible. We apologize in advance for any delays.